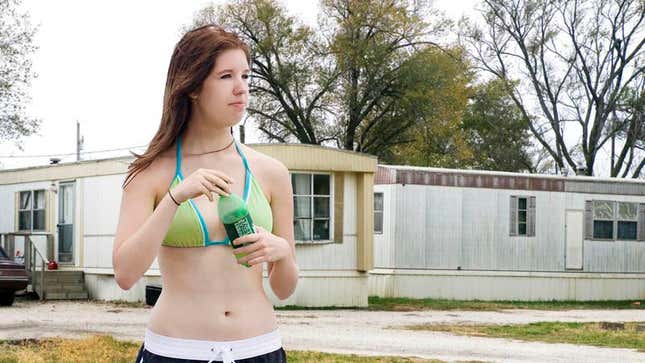 MCCOMB, AL—In an announcement that quickly set Lowndes County abuzz with excitement, royal family sources revealed Tuesday that Brandy Puckett, 15, Duchess of McComb and first in the line of succession to the throne, was pregnant with her first child.
CDC Issues Dire Warning That Nick Cannon Is Feeling Horny
"Brandy's got a baby in her!" said Duke Bo Puckett, 17, addressing a rabid mob of reporters and paparazzi gathered around the back porch of the royal estate. "She hadn't bled for quite a spell, so we took her to the doctor and he said she's gonna be a mama."
Ending widespread speculation that the duchess was "sick with something on account of she was throwing up," McComb palace officials confirmed that Duchess Brandy was three months pregnant, would give birth early next summer, and had already put in for two months of maternity leave from the local Price Chopper.
"Don't know who the daddy is yet," said Brandy's mother Lurline III, the unmarried, 28-year-old reigning Queen of McComb. "Might could be her pa's, but probably not, though. Me, I reckon it's most likely either [Earl of Lowndesboro] Clyde's or [Gordonville High Count] Darryl's."
"Whosever it is, I ain't taking care of it," Her Royal Highness added.
Though the byzantine, incestuous royal ancestry of McComb is reportedly impossible to trace for more than a couple of generations, experts on the family confirmed that the duchess's child is set to move ahead of Brandy's six brothers and eight sisters in the line of succession, presumptively becoming monarch directly after Brandy herself.
"It's a figurehead position, 'course," said Lord "Skeeter" Puckett, who explained that real power in Lowndes County ultimately resides with the sheriff. "The child's role will be to please the people; enjoy the life of McComb royalty, free from responsibility; wave at the public through the screen door; wear the royal camouflage sun hat; and fill his or her days with recreational game hunting, fishing, and off-road driving in the royal pickup."
The pregnancy announcement came as welcome news for the royal family, which has endured numerous scandals, the most recent of which was the McComb Enquirer's publication of a nude photo of all 53 of Brandy's cousins.
At press time, sources confirmed the duchess had been hospitalized for a Vicodin overdose.