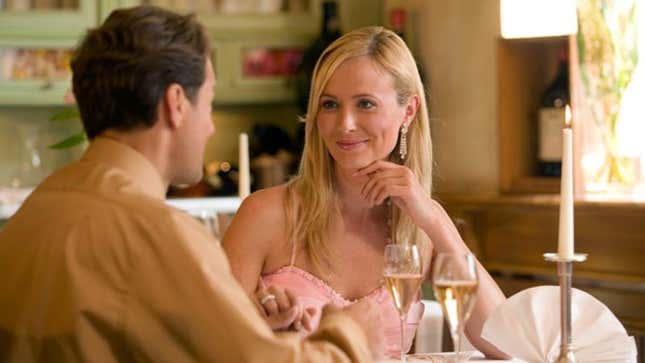 WASHINGTON—Flushed with anticipation and ready to emerge from another long, cold winter, millions of Americans participated this week in the annual tradition of trimming their pubic regions in time for Valentine's Day.
Worst Mistakes All Brides Make On Their Wedding Day
A ritual as old as time itself, this year's pubis-shearing is expected to be among the largest in decades, with more than 20,000 tons of curly clippings predicted to fall by Feb. 14.
"My boyfriend and I are going to see As You Like It and then enjoy a nice candlelit three-course dinner," said Brooklyn resident Lydia Simonson, who along with many other hopeful lovers will soon excuse herself from her daily duties, retreat to a nearby bathroom, and carefully tend to the area around her genitalia. "It's going to be so romantic!"
Indeed, tiny scissors and electric razors have already begun to fly off drugstore shelves, while all across the country legs are dangling precariously over open bathtub drains. According to statistics from the National Depilatory Council, the week before Valentine's Day is by far the busiest time of the year for shaving, trimming, sculpting, playful pattern-making, waxing, and even manscaping.
"David and I are going to take a long walk around the park and then maybe on the way home we'll stop and grab some ice cream," said Julie Stibbons, a Dallas-area design consultant who recently made use of grooming shears, a pair of tweezers, and two magnifying mirrors to contribute her 0.4 ounces to the nation's total raw tonnage. "I wonder if David will send me flowers at work like last year."
Added Stibbons, whose smooth vaginal region will show no signs of stubble for days to come, "He's just so wonderful."
While this year promises to be prolific, experts said the country has gone through many personal grooming phases over the years. In 1947, the first year records were kept, Americans only mowed about 1.25 tons off their "crotch lawns," while in the mid-1970s private trimmings were so rare that documentation was actually abandoned until 1981.
But with the booming economy of the 1990s, the U.S. saw a significant resurgence in pre–Valentine's Day shearing and plucking.
"There's a huge spike every year in the first half of February," said Brooks Watson, who is head of sales at Schick, makers of the TrimStyle razor for women. "The rest of the year, Americans generate about 50,000 tons of total trimmings, but in the week before this special holiday we see a massive jump. It's a veritable clear-cutting down there."
"Bzzzzzzzz," he added. "Timber!"
According to Schick's marketing research, during the Valentine's season, U.S. pubic hair removal rates briefly approach those of Brazil, traditionally the smoothest country on the planet. While Americans seem willing to chop it all off for their annual celebration of romance, personal trimming still varies by season, and plummets to levels almost as low as Greece's during the week of Thanksgiving.
"If I trim the shrubs, the tree looks bigger," said Jeremy Wertz of Boise, ID, standing in front of his hall mirror with a pair of scissors taken from his employer's supply closet. "See? Worth the itching, if you ask me."
While many consider the practice a time-honored tradition, not all Americans share Wertz's enthusiasm.
"I'm not going to let corporate America dictate the date or time at which I choose to groom my genitals," said Denver resident Marcus Shannon, adding that Valentine's Day was "invented by the razor industry" to sell grooming devices. "If you really love somebody, you should shave your pubes year-round."
Meanwhile, National Depilatory Council director Donna Spaulding said the sudden nationwide surge in follicular concern is understandable, but she urged caution.
"We all want to look good and feel desirable, but it's important to keep things in perspective," Spaulding said. "In the end, you want people to love your pubic region for what's inside, not just for how it looks."