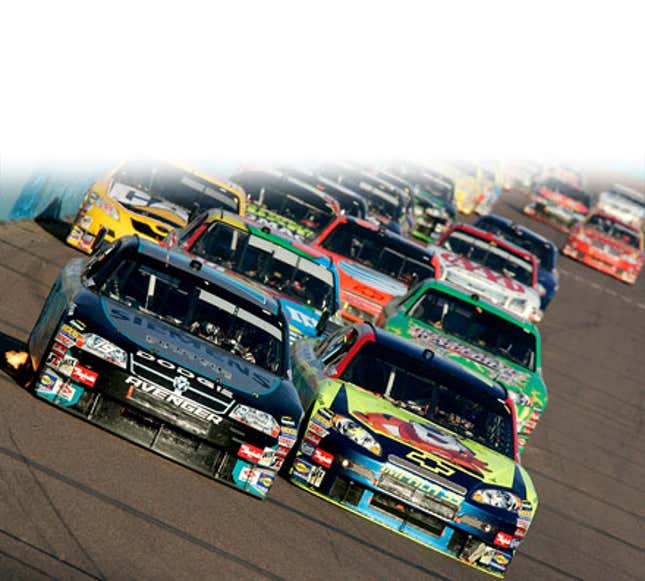 Jimmie Johnson has been awarded the 2007 NASCAR Nextel Cup after an historic and eventful racing season. Onion Sports runs down the high points:
Tony Stewart wins the USG Sheetrock 400, and is rewarded with 14,000 tons of sheetrock
Mark Martin finishes the Pepsi 400 with a record 78 wrinkles
Kyle Busch is hospitalized for a month when tradition requires him to drink a glass of the race sponsor's product after winning the Castrol GTX Industrial-Strength Motor Oil 500
Unable to come up with a signature post-victory celebration, rookie Juan Pablo Montoya just sort of claps his hands a little bit
VAAROOOOOOOOOOOOOOOOOOOOMMMMMMMM! BRUM brum brum bruubrummmbrummmm VREEEEWWWAAAAHHHHMMM! WHEEAAAAAAARRRRUUUUM! SkrrrreeeeeEEEAHHHHHGH Ka-WHAAAAMMMMMBO!
Laps 4, 8, 15, 16, 23, 42 at the Allstate 400: awesome
Dale Earnhardt Jr. has an impressive comeback at Pocono to finish second, although he probably would have finished first if he still had a dad
Bobby Labonte's coonhound, Colonel Earl, sends shockwaves throughout the conservative, family-oriented world of stock car racing when "he" births a litter of eight cute li'l pups
The NEXTEL Cup Series combats rising gas prices and increased ecological sensitivity among consumers by ignoring them
With one race remaining on the schedule, Jeff Gordon clinches his first ever "Champion For Most Of The Season" Cup