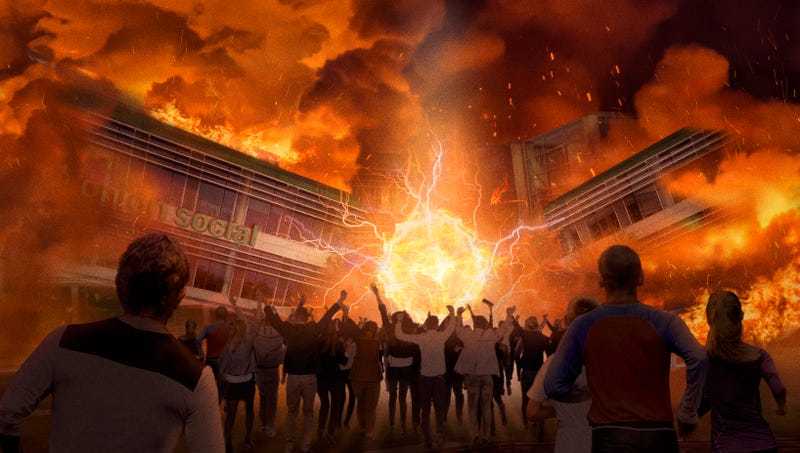 OnionSocial.com In The News
Join the social media revolution.
PALO ALTO, CA—Desperate beyond measure for a final glimpse at the breathtaking social network, 25 million Onion Social users ran into the roaring inferno engulfing Onion Social's Silicon Valley headquarters Friday in hopes of using the website one last time. "Don't leave us! Not yet! Just please give us one more post on Onion Social!" said Justin Chang, one of millions of users who made the pilgrimage from all corners of the globe and, pausing only to take selfies with the roiling smoke and cascading sparks devouring the corporate campus, clawed frantically through the mounds of corpses clustered around ruined web development monitors to throw their screaming infants into the raging blaze in a last-ditch effort to engage with the social network's unparalleled lineup of O-Influencers. "I can't live in this world if I can't foster connections with my friends and family using Onion Social's algorithm. Though these flames consume my body, I swear before God I shall click one final time on its magnificent sponsored links!" At press time, hundreds of thousands of users had barricaded themselves in the fiery headquarters and were still pleading for someone to post a memorial to them on Onion Social as the incandescent wreckage of the building collapsed on them in a groaning tower of flame.