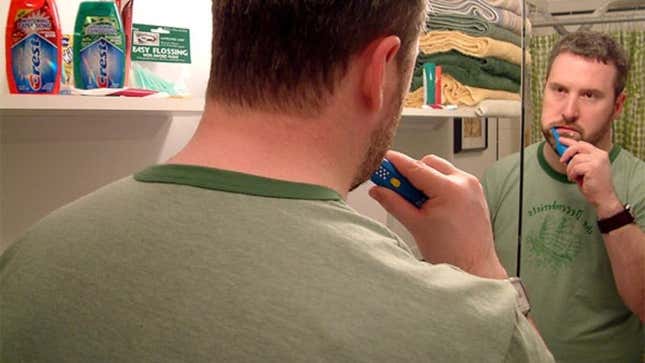 SAN FRANCISCO—More than three decades after acquiring his first Pink Panther toothbrush, Mark Naasz continues to search unsuccessfully for new ways to make brushing his teeth fun, the 36-year-old Bernal Heights resident revealed Monday.
This Week's Most Viral News: September 22, 2023
"Check it out: Tom's Of Maine fennel-flavored all-natural anti-cavity toothpaste," said Naasz, pulling the $4.89 item from a Whole Foods bag. "It says here that fennel is an all-natural, herbal breath-freshener that's been used for centuries. And look: This little snap-lid bottle fits in my jacket pocket, so I'll probably start brushing my teeth after lunch. I've been meaning to get into that habit for years."
Although Naasz's taste in toothpastes, mouthwashes, flosses, brushes, and other oral-hygiene aids has grown more sophisticated over time, his desire to make the chore of dental care enjoyable has remained constant.
"Every time I go to the dentist and get a cleaning, I vow that I'll start taking better care of my teeth," said Naasz, who brushes two times a day and flosses once or twice whenever he buys a new flossing product. "If I could just find something that would make fighting plaque and tartar less of a boring, repetitive chore—like a really flavorful toothpaste or a cool electric toothbrush—then I'd want to do it."
Naasz's pursuit of good dental hygiene extends beyond dentifrices and brushing devices. He recently embarked upon and quickly abandoned a foray into home tooth-whitening.
"I thought whitening my teeth would be fun—really dramatic or something," Naasz said. "But the [whitening] strips felt weird against my teeth, and it was torture keeping them in my mouth for 30 minutes. Really, I don't know what I was thinking—I can't even stand gargling with Listerine for 30 seconds."
Faith Combes, Naasz's girlfriend of three years, has stood by as Naasz cycled through dozens of over-the-counter tooth-cleaning products. According to Combes, Naasz's fascination with new dental products is matched only by his ability to grow bored with them.
"Whenever a weird, nobby toothbrush or a ridiculously complicated toothpaste comes out, Mark buys it," Combes said. "He was really into this 'liquid calcium' Enamelon for a while. Before that, it was Mentadent—you know, the toothpaste with the 'unique dual-chamber pump.' But then he got tired of buying the big, stupid refill cartridges. He went through an extreme toothpaste phase for a while. But lately, since they opened the Whole Foods near his apartment, he's been on an organic, all-natural kick. Hence the fennel stuff, the taste of which I'm guessing he'll hate."
"I don't know," Combes added. "Somewhere along the line, Mark got it into his head that oral hygiene can somehow be made fun. It's an idea he refuses to let go of."
Naasz's preoccupation with the brushing habit started in 1974, when he received a Pink Panther electric toothbrush on his 6th birthday. Naasz quickly discovered that he didn't like the feeling of motorized bristles on his teeth, began using the Pink Panther toothbrush as a doll, and was well on his way to developing his first cavity.
When he reached his teenage years, products like Aquafresh toothpaste—with its alternating red, green, and white stripes—briefly appealed to Naasz, who found a renewed interest in fresh breath and white teeth upon reaching dating age. But according to the 36-year-old, not one product has helped make brushing anything but an unpleasant responsibility.
"All the packages look so great in the pharmacy," Naasz said. "But using the products is never as nice as looking at them on the shelf, when they're all pure and full of promise. Once you put that first dent in the tube, the allure is gone."
Naasz said that reflecting upon his misbegotten dental-care past "brings him to the brink of despair."
"Sometimes I'm like, 'What's wrong with me?'" Naasz said. "No matter what I buy, I have to force myself to brush, and I come away thinking brushing is an everyday duty that has nothing to do with pleasure."
American Dental Association spokesperson Elizabeth Bagnold said Naasz's case is like many seen by the nation's most prominent dental-health advocacy group.
"For years, the ADA has stated that brushing should be fun," Bagnold said. "But upon reviewing Mr. Naasz's case, we are considering revising our policy. Proper oral hygiene provides plenty of lasting benefits, but it is rarely enjoyable for its own sake. I would go so far as to say that fear, rather than fun, provides a much more legitimate motivation to brush and floss daily."