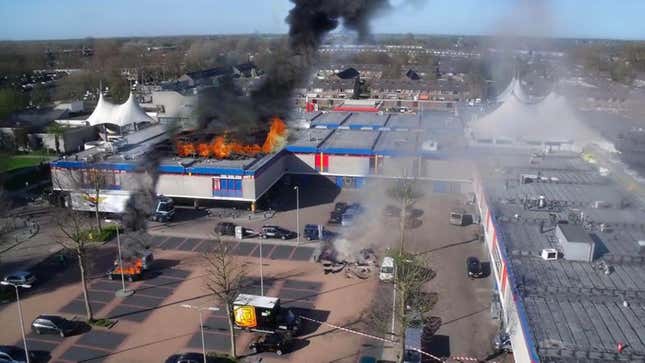 NEW YORK—According to emergency personnel, early estimates indicate that more than 42 million Americans were killed this past weekend in what is now believed to be the bloodiest Black Friday shopping event in history.

Target Now Offering Snipers To Take Out Other Shoppers For Black Friday
First responders reporting from retail stores all across the nation said the record-breaking post-Thanksgiving shopping spree carnage began as early as midnight on Friday, when 13 million shoppers were reportedly trampled, pummeled, burned, stabbed, shot, lanced, and brutally beaten to death while attempting to participate in early holiday sales events.
Law enforcement officials said the bloodbath only escalated throughout the weekend as hordes of savage holiday shoppers began murdering customers at Wal-Mart, Sears, and JCPenney locations nationwide, leaving piles of dismembered and mutilated corpses in their wake.
"The level of bloodshed this year was almost beyond imagination—no prior Black Friday could have prepared us for this," said National Guard commander Frank Grass, talking to reporters in front of the still-smoldering remains of a local Best Buy that was burned to the ground Saturday. "We had fire trucks, police cruisers, and guardsmen stationed at multiple locations, but it was useless. At the moment, hundreds of thousands of American shoppers are still unaccounted for, and we expect $2 billion in damage has been wrought upon our cities. "
"The stench of death is unbearable," a tearful Grass added. "Simply unbearable."
As the weekend of sales drew to a close, ambulances could be seen circling the now empty and completely ravaged shopping complexes as they searched for signs of life, while clean-up crews worked to clear the rubble, overturned cars, and large pools of blood from local Kohl's and Macy's parking lots.
The White House issued an official response, stating, "We mourn the deaths of those 42 million American shoppers who tragically lost their lives this Black Friday."
Survivors of the deadly holiday sales event said that while the weekend began as a chance to "get in on some unbeatable post-Thanksgiving deals," it quickly escalated into a merciless, no-hold-barred fight to the death.
"At some point in time we all stopped caring about the deals and the holiday shopping and were pretty much just out for blood," said Dana Marshall, 37, a Target shopper who suffered seven broken ribs and a cracked sternum while fighting two other customers for a discounted Nikon digital camera. "I remember just sitting on top of a woman and smacking her head with a DVD player until her face was completely unrecognizable. I felt nothing. Absolutely nothing."
The Onion will continue to publish a running list of the Black Friday dead throughout the week.