WASHINGTON, DC—Continuing a trend that began in the Senate last November, House Majority Leader Tom DeLay (R-TX) announced Monday that 45 members of the House of Representatives would be laid off and replaced by cost-efficient heavy legislating machinery.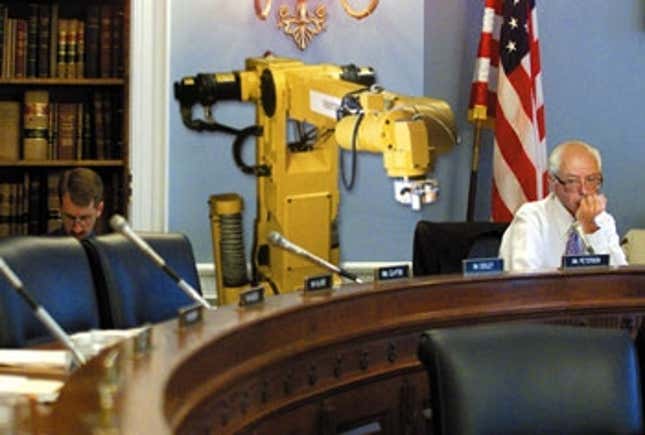 This Week's Most Viral News: September 29, 2023
"I feel awful for my colleagues who are now out of work," DeLay told reporters at a press conference. "I've known some of these people for years, but the fact remains that these new machines can pass bills up to 10 times faster than their human counterparts. Like it or not, this is the future."
In spite of denials from congressional leaders, the rash of job cuts has some legislators worried that Congress will be fully mechanized within 10 years.
"The House and Senate will always need people," Speaker of the House Dennis Hastert said. "These machines are a valuable tool, but there's still no substitute for the wisdom and experience of an actual human congressman. Everything that happens in Congress requires, to some extent, the human touch. Except maybe drafting legislation. That can pretty much be done by machine."
Though both Hastert and DeLay insist that increased congressional automation would be a boon for the overworked legislators, the alarming rate of layoffs is causing anxiety on Capitol Hill.
"Our bosses say nothing is ever going to replace old-fashioned, hands-on legislation, but I have my doubts," said a Michigan representative speaking on condition of anonymity. "As it stands, we only have a few seconds to look over the bill before putting it in the machine to vote or amend. If we try to take a closer look, DeLay gets on our ass about holding up the line. I don't want to pass shoddy legislation, but I don't want to lose my job, either."
Robert Barnes, managing editor of Congressional Quarterly, predicted that the legislative body's workforce will be cut in half by the end of 2005.
"The fact is, there's little a human legislator does that a machine can't handle," Barnes said. "All you have to do is program the machine as either Democrat or Republican, and it'll vote along the exact same party lines as a real lawmaker. We know exactly how Ted Kennedy or Orrin Hatch will vote on, say, banning flag-burning, so there's really no reason to keep them around when a machine can do it for a fraction of the cost."
"Frankly," Barnes continued, "I wouldn't be surprised if, in 20 years, the machines get phased out in favor of computer simulations that can carry out an entire legislative session—from introduction of a bill to debate to vote—in a fraction of a second."
On top of feeling unappreciated and expendable, many representatives expressed displeasure about a decline in working conditions, including the addition of shifts to facilitate round-the-clock legislation. Tensions have been so high that Beltway insiders don't rule out the possibility of a congressional walkout, which would grind the U.S. lawmaking industry to a halt. DeLay, however, said he is confident the representatives will stay on the job.
"These are good men and, sure, they like to run their mouth off, but they're not going to strike," DeLay said. "Once they get used to the machines and the new regulations, things will normalize. Besides, where else are these legislators going to go if they quit? I mean, their skills aren't exactly what I'd call transferrable."