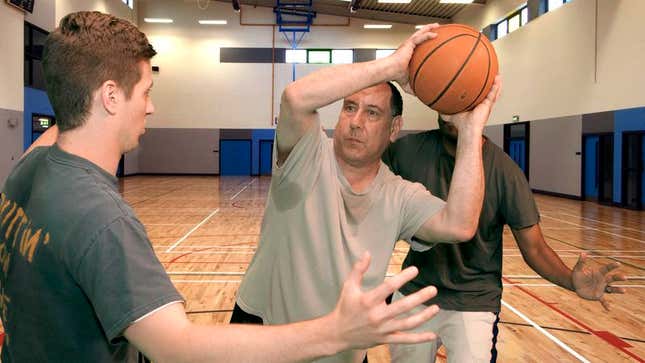 CINCINNATI—Surprising many with his impeccable fundamentals and intense style of play, sources at the Elm Street YMCA confirmed Thursday that a 55-year-old man is absolutely dominating the competition at the gym's evening pickup basketball game.
This Week's Most Viral News: September 29, 2023
The partially graying, tank-top–clad man—who was overheard introducing himself as "Ken" to several other players at the beginning of the game—has reportedly been utterly unstoppable on both ends of the floor, carving up the opposing team with a diverse arsenal of pump fakes, post moves, and well-timed backdoor passes.

"He's gotta be at least 15 years older than anyone else here, but he's just blowing through people with ease," said opposing player Evan Harris, 26, adding that the man has been confidently calling for the ball, setting screens, and directing his teammates' positioning on defense. "He crashes the boards like a madman, he hustles down the court for fast breaks, and he sure as hell isn't afraid to body up underneath the basket. He's everywhere."

"And if he starts driving to the hoop, you better get out of the way," continued Harris. "He's a goddamn freight train."

Eyewitnesses at the recreational facility told reporters that the man, who donned a large black knee brace prior to the game, has commanded an unquestioned authority over his team as he continues racking up points, assists, steals, and rebounds.

He has reportedly proven to be a formidable presence in the paint, and, in spite of his 5-foot-10, roughly 210-pound frame, exhibited a remarkably light touch on the ball while sinking several outside jump shots.

Sources also confirmed that defenders have been unable to cope with the man's dizzying array of pinpoint bounce passes from the top of the key, noting that he has also yet to commit a single turnover during the game.

"He's a little stocky, but he's actually a lot quicker than he looks," said 31-year-old Aaron Garrett, adding that the man has shown absolutely no signs of exhaustion or fatigue despite his shirt being completely drenched in sweat. "I tried going up for a rebound against him, and I just bounced right off his body. He's definitely not the fastest guy out there, but he more than makes up for it with how hard he plays."

"Maybe he played in college or something," Garrett added. "I underestimated him—I think we all did—and he's making us pay for that now."

According to sources, the middle-aged man has been unafraid to inform teammates of their lackluster play, often imploring them to look for the open man or cut to the rim for a pass. After a breakdown in defense led to an uncontested layup for the other team, the man was observed clapping his hands together several times in frustration while shouting "Communicate!"

Furthermore, several reports indicated that the 55-year-old is the only person on the court who has called fouls during the game, at one point singling out an opposing player he simply referred to as "Red Shorts" after a rough charge and sternly telling him to "cool it."

"He's more or less a one-man team out there—everything is going through him," said 26-year-old teammate Timothy Graham, speculating that the man must play pickup games at least twice a week to keep himself in such good shape. "I mean, Christ, we've been playing for a good 45 minutes, and he hasn't even taken a single water break. I hope I'm in half as good shape as that when I'm his age."

At press time, after his team handily won the game, the 55-year-old had reportedly shaken each player's hand, grabbed his Reebok gym bag on the sideline, and quietly walked out of the gym.