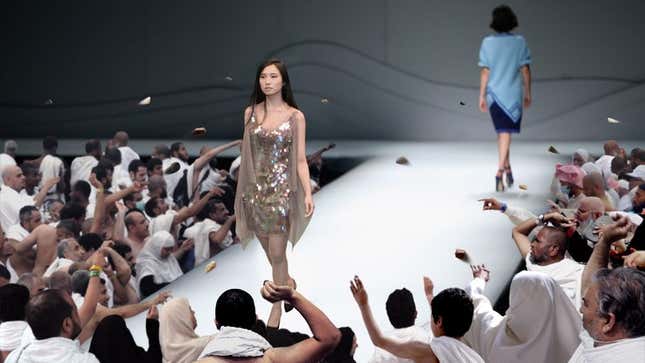 RIYADH, SAUDI ARABIA—With local organizers and attendees hailing the event as a "major success," the Saudi Arabian capital Riyadh wrapped up its 10th annual fashion week Friday, a star-studded international showcase of the latest trends during which 57 women were pelted to death by stones.
The glamorous high-fashion event, which debuted the fall couture collections of Calvin Klein, Diane Von Furstenberg, and Anna Sui among others, took place over seven days in the city's upscale Olaya district and claimed the lives of dozens of models, assistants, and designers, as well as 19 female audience members whose outfits exposed parts of their bodies other than their eyes or hands.
"Riyadh Fashion Week is the place to be to check out the newest styles and kill the women wearing them," said local fruit seller Salman Awad, who claimed that this was his favorite of the six Fashion Weeks he's attended, as he was able to take out the eye of a model wearing a brocade tunic at Tuesday's Vivienne Tam show. "My friends and I made sure to line up outside the tents before dawn to get good seats close to the front. It's a lot easier to hit them in the head that way."
"I'm already starting to save up my rocks for next year's Fashion Week," Awad added. "I can't wait."
Fashion Week organizers confirmed that this year's turnout was the highest in the event's history, attracting thousands of eager stone-wielding visitors from all over the Middle East. According to event staff, every runway show was standing room only, with fashion industry elites and celebrities rubbing elbows at top designers' collection debuts and glitzy brand-sponsored after-parties alongside Saudi locals demanding to know which, if any, of the women had received permission to be there from either their husbands or a male member of their family.
This year's event kicked off last Saturday with a chic multi-designer exhibition in the plush Kingdom Centre, during which audience members were reportedly stirred into a frenzy of anticipation even before the show began by large-screen projections of the hottest current fashion trends in Paris and Milan. Sources described the show as a "stunning spectacle," with enthusiastic crowd members bombarding models one by one as they came out onto the catwalk, leaving a growing mound of bloodied female bodies and high-end custom-fitted gowns and accessories on stage.
In addition to the stonings, sources confirmed that during a disco-themed show Wednesday night featuring Jay Godfrey's 2014 resort-wear line, attendees ran out of projectiles and were forced to rush the stage and strangle several models to death with their own $1,100 ruched cowl-neck tops, all while renowned DJ Geordon Nicol spun a live dance music set.
"From where I was sitting, I had a great view of Oscar de la Renta getting beheaded just a few rows in front of me," said first-time Fashion Week visitor Faisal Qureshi. "When I bought my ticket I was only planning to hurl rocks at the models on the runway, but once everybody started chanting 'Death to Western infidels,' I ended up joining in on the melee and pummeling several hairstylists and makeup artists who looked like homosexuals."
"It was the best fashion show I've ever been to," he continued. "I got to personally hold down and help castrate three sodomites."
While each year at least five or six women are stoned to death at Riyadh Fashion Week, organizers confirmed that this was by far the largest number killed since 2009, when 21 women modeling the DKNY summer line had their skulls bashed in with rocks as they changed backstage. Those who survived the initial bludgeoning and made it out to model that year's high-waisted halter bikinis were reportedly met by a frenzied audience that threw cups of acid on their faces and bodies.
However, organizers say the event's popularity has grown to such an extent that they are thinking of expanding the number of shows in the future.
"In Saudi Arabia, there's a new generation of fashion-conscious citizens who want to stone the next big thing," said Riyadh Fashion Week executive director Hakim Moghadam. "Whether it's heaving rocks at the new Zac Posen ready-to-wear collection, or giving hundreds of lashes to anyone sporting BCBGMAXAZRIA, they want to be a part of the scene."
"And we want to let everyone across the Kingdom know that they don't have to travel to London or New York," he continued. "They can slaughter the immodest in their own backyard, right here in Riyadh."