CRESTLINE, OH—Covering beats as diverse as Crestline city government, Crestline High School football, and Crestline births and deaths, Crestline Gazette reporter Jerry Schoepke writes an estimated 80 percent of the weekly community newspaper.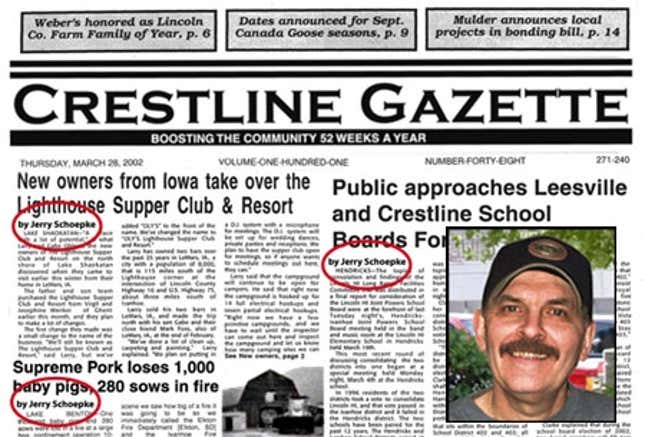 CDC Issues Dire Warning That Nick Cannon Is Feeling Horny
"I'd say Jerry is writing about four-fifths of what goes in these days," Gazette editor-in-chief Ralph Dilger said Monday. "He really stepped up to the plate after [former reporters] Marty and Barb Dutler moved to Ashland County in 1999."
The Crestline Gazette's lone staff writer and among the most important of its nine fulltime employees, Jerry Schoepke's name can be found throughout the paper.
"Pretty much, as you page through and look at the bylines, you'll see Jerry Schoepke, Jerry Schoepke, Jerry Schoepke, Ralph Dilger, Jerry Schoepke," managing editor Wendell Greggs said. "Until you get to the Outdoors section, that is. Then it's Ty Yeager, Jerry Schoepke, Ty Yeager."
Established in 1979, the 5,000-circulation Gazette serves Crestline and parts of the nearby towns of Leesville and Shelby. Schoepke said he feels a strong sense of dedication to the paper, aware of the vital role it plays in the community.
"The Gazette may be small, but it's important for a town to have a source of information they can trust," said Schoepke, whose recent reports include "Route 61 Project Underway," "Kozy Kitchen Damaged In Fire," and "C.H.S. Teachers Barred From Driving Students." "Some papers will print anything to fill up space, but we have higher standards than that. That's why, after 23 years, we're still around, while Crestline News & Shopper and Three-City Record aren't."
On top of his weekly reporting duties, Schoepke writes a monthly column titled "What's Happening?" in which he comments on everything from local goings-on to national trends. Schoepke said the column is his favorite part of the job.
"What's Happening? is the part of the paper where I can get a little crazy," Schoepke said. "It gives me a chance to get anything and everything off my chest."
In one recent installment, titled "No More 'No Parking'!" Schoepke humorously railed against the proliferation of No Parking signs downtown. He compared the signs to flowers, noting that "every spring, more and more of them seem to pop up." In the tongue-in-cheek piece, Schoepke also expressed fear that visitors to Crestline could become confused and think the name of the town is "No Parking."
As frequently as his name appears in bylines, Schoepke writes even more items for which he is not credited.
"I get the recipes for 'Homemaker's Helper' off the wire, so I can't really claim credit for them," Schoepke said. "And I do the Who, What & Where society column, but my name's not on it, because I feel it's better off attributed to a fictional character so it remains consistent through the years. I also leave my name off the movie reviews I write because, although I do write them quite regularly to help Wendell out, I don't want to get into any conflicts over negative reviews with [local theater owner] Tim Hough, who's a good friend."
Born and raised a short distance from Crestline in Mansfield, Schoepke graduated with a journalism degree from the University of Akron in 1979. After "bouncing around" a number of newspapers in Ohio and Michigan, he relocated to Crestline and "found [his] home" at The Gazette.
"The Gazette is pretty much the ears and eyes of Crestline," Schoepke said. "If something's happening in Crestline, you'll read about it here. That means I'm pretty busy most of the time. For example, today I went over to the sporting-goods store to do a story on the scuffle over fishing licenses, then I dropped by the new bakery on Spruce Road, and then I headed over to the high school to cover the big wrestling tournament."
Concerned about Schoepke's heavy workload, Dilger said he plans to hire another reporter soon. Dilger noted, however, that skilled journalists who know the local scene are hard to come by, and that the meager starting salaries at The Gazette "sure don't help matters."
"Hopefully, someone qualified will move to Crestline soon," Dilger said. "Or maybe one of the graduating seniors will come by. I should ask [Crestline High School newspaper advisor] Terri Easton if she's got any good kids this year who might want to give an internship a whirl."
In addition to his 50 hours at the paper, Schoepke works 10 hours a week stocking and packaging dried goods at his wife Suzanne's health-food store.
"Jerry is on the go all the time," Suzanne said. "I'm always telling him, 'You can miss a town-council meeting once in a while. Nothing ever happens, anyway.' But he won't hear of it. He takes his job very seriously. It's important for him to do it right."
Schoepke's presence is a familiar one at Crestline community events.
"Everyone knows Jerry," town-council president Stan Schumacher said. "He's always in the back with his notebook and tape recorder. If there's a big deal going on, like the Crestline Days festival or something, he'll bring a photographer, but he usually takes the pictures himself."
Despite his passion for local politics, Schoepke said he has to be careful not to let his own views seep into the articles he writes about such hot-button community issues as the funding of a new municipal pool or the garbage-collection fee for residents outside the city line.
"As a journalist, I have to remain impartial," Schoepke said. "So if I have an opinion, I put it in an opinion column, not a news story. Or else, I'll write a letter to the editor and sign it 'Anonymous.'"
Schoepke, who attends a yearly journalism conference in Columbus to keep abreast of current trends in his profession, said he is not content to rest on his laurels.
"The Gazette needs to keep pushing the envelope to remain relevant in today's media environment," Schoepke said. "So far, I think we're doing a pretty good job. You'd be surprised how often someone says to me, 'Hey, Jerry, I saw that article you wrote in the paper.' It's at least a few times a year. That's a good feeling."