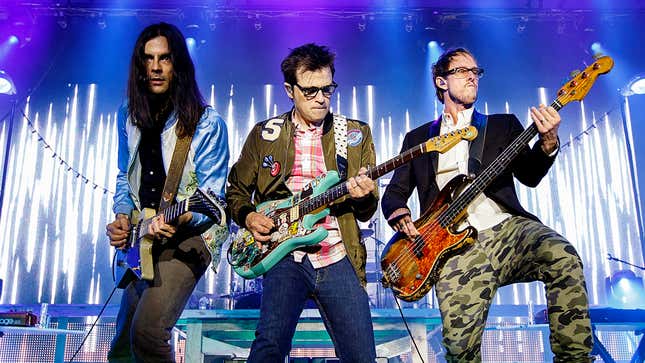 Weezer will release its 13th studio album, the self-titled "Black Album," on March 1, continuing a 25-year career that has had its share of ups and downs. The Onion looks back at the history of Weezer.
Study Finds LSD Highly Effective At Ruining Nephew's Baptism
---
1945:
United States military occupies Japan, leading to a long-lasting cultural exchange.
---
1985:
Rivers Cuomo was having a rough childhood, probably.
---
1993:
In need of some background music for his eye-catching videos, director Spike Jonze creates the band Weezer.
---
1994:
Weezer's video for "Buddy Holly" receives the highly coveted and prestigious honor of being featured on the companion CD for the Windows 95 operating system.
---
1996:
Record sales soar with rumors that drummer Patrick Wilson shot 2Pac.
---
1997-1999:
The band waits quietly in the studio waiting for Rivers Cuomo to finish Harvard.
---
2002:
Weezer releases Maladroit, its fourth studio album, featuring more songs and choruses and riffs and stuff.
---
2008:
The "Red Album" features the band experimenting with more terrible material.
---
2012:
The band scraps an entire album's worth of songs after they're unable to decide on a color.
---
2019:
After many years of pulling on the single thread, the sweater from "Undone (The Sweater Song)" is finally completely destroyed.