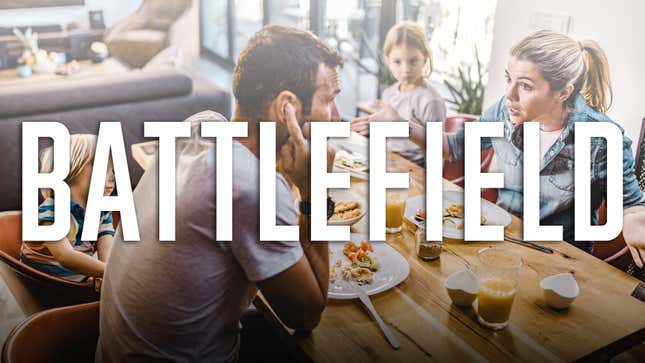 Big news, Battlefield fans! After months of speculation, EA made a splash this week when they revealed the next treacherous setting for the long-running franchise. According to an EA spokesperson, Battlefield will finally tackle one of the most brutal wars of all time by taking place in a middle-class family torn apart by a messy divorce.
CDC Issues Dire Warning That Nick Cannon Is Feeling Horny
Developers for the new game, Battlefield: Highland Park, say they were captivated by the idea that sometimes the hardest battle happens inside our own homes. Gameplay reportedly focuses on a five-person family, including children aged 14, 10, and 8, and will give players the options to fight for both the father or mother's side by occupying strategic locations like the living room sofa until your opponent relents on joint custody, or withering away at their patience bar by attacking them with cutting insults about how your opponent has failed as a husband and a man through his inability to provide for your family. 
"We went to great lengths to faithfully replicate the harrowing, on-the-ground realities of divorce, down to outfitting motion-capture suits on real-life fighting couples," said producer Andreas Morell, explaining how his team interviewed dozens of real veterans of divorce in order to capture the most authentic aspects of abruptly ending a marriage. "With well-timed tantrums and threats to never speak to your spouse again, players will slowly whittle away at either one of the parents' self-esteem until they claim victory on deep, detailed maps like 10th Birthday Party and Olive Garden."
"There's great DLC in the pipeline, too, including a challenging, claustrophobic map where you have to balance your parents' demands for attention at a piano recital," he added. "Honestly, this may be the most intense Battlefield we've ever made." 
EA has also confirmed that Battlefield: Highland Park will also feature loot boxes allowing characters to equip random treasured childhood items, such as art projects and scrapbook entries, that can be brandished to emotionally devastate one of the divorcing parents.
We can only speak for ourselves, but we can't wait to get our hands on this game!