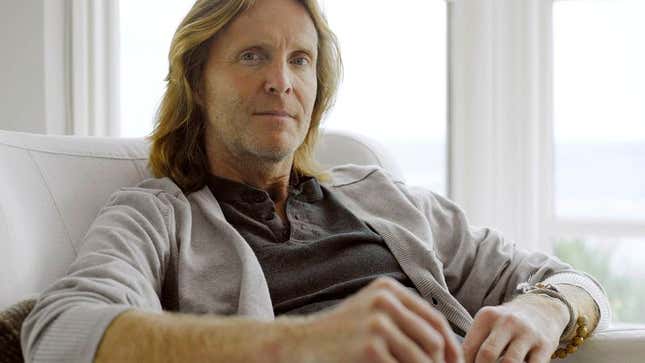 CODY, WY—Describing the years of psychological torment he has in­flicted upon his two children James, 14, and Amber, 9, local tax attorney Ted Sheehan told reporters Thursday he couldn't wait to see what kind of art his abuse would inspire them to create when they grow up.
Nation's Blakes Cruise Easily Through Lifeguard Tryouts
The 37-year-old father said he could only imagine how his son and daughter's unstable upbringing might manifest itself in future writings, paintings, or music, given the way he routinely ridicules their achievements, yells at their mother in drunken fits of rage, and threatens the family with physical violence.
"My constant petty bullying alone ought to be worth a couple novels or screenplays—maybe even a solo museum exhibit," said Sheehan, noting that even when his children do get a break from his verbal abuse, they still suffer from total emotional abandonment. "We're not talking here about your ordinary, everyday withholding of approval, either. Most of the time, I'm actively undermining and belittling them. Definitely stuff that could be channeled into unique art emblematic of the isolated, tortured nature of human existence."
"After 18 years of life in that kind of menacing environment, you could easily be looking at the next Jackson Pollock and Sylvia Plath," he added.
Asked if his children might turn to teachers or other adult role models for the support they lack at home, Sheehan said he assumed his long record of broken commitments—promising to attend and then forgetting about Amber's school play, buying James a longed-for guitar and later pawning it to pay a gambling debt—would prevent them from ever trusting anyone and force them to find artistic outlets for their anguish.
According to Sheehan, he hadn't stopped to consider his children would have "a real leg up, creatively" until he recently re-watched the works of Ingmar Bergman and realized how the legendary filmmaker had exorcised the demons of his childhood on screen.
"A classic like Fanny And Alexander makes you think about all the different ways you're terrorizing your own kids, and how you're giving them the raw material they need to create a masterpiece of their own," Sheehan said. "James is already expressing his feelings through poetry. It's pretty good, but I still tell him he's a little faggot for writing it. I bet he'll focus the rage he feels toward me into writing even better poetry."
"Can you imagine the unstable temperament he'll have 20 years from now, at his creative and intellectual peak?" Sheehan added.
Despite the habitual humiliation and agonizing mind games he ensnares James in on a daily basis, Sheehan said his daughter was the one most likely to experience crippling depression on the level of Frida Kahlo or Georgia O'Keeffe.
"I was looking at this watercolor Amber did at school and, Jesus, the attention to detail, the vibrant and erratic brush strokes," said Sheehan, describing a large and monstrous figure in the center of the work that "could only have been [him]." "It's obvious she was trying to work through something really horrific. When she showed me the painting, I of course tore it up and threw it in her face before telling her she was a disappointment and a failure and would never amount to anything. But man, you should have seen that painting—just incredible."
While believing he has already irreversibly damaged his young children's psyches, Sheehan claimed the years to come would be even more devastating, as James and Amber are inevitably forced to deal with a broken home, a stepmother not much older than they are, and, eventually, their father "bailing on them altogether."
"Think of how many great songs have been written about abandonment," Sheehan said. "Or how many classic books have been written about the strained father-child relationship. They don't know it yet, but I'm setting them up for a long and fruitful career."
"Of course, I have no way of knowing whether they'll actually become groundbreaking artists or voices of their generation," Sheehan continued. "But if nothing else, they've inherited my predisposition toward substance abuse, so they'll at least be able to fall back on the self-sabotage of drugs and alcohol to churn out a mediocre album or two."
When asked how their father's behavior had impacted their creativity, neither child spoke or even made eye contact, with Amber clutching firmly to her mother's waist.