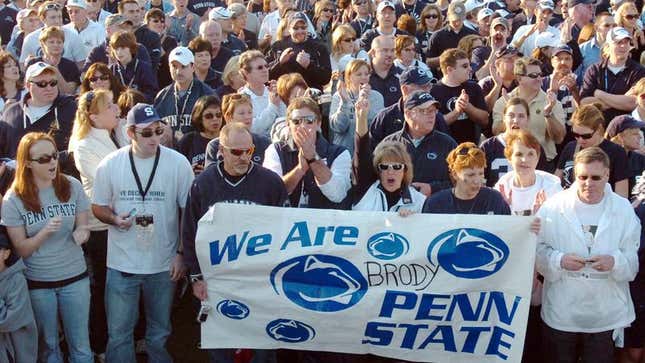 STATE COLLEGE, PA— The recently released Freeh Report on Pennsylvania State University, which placed blame on university higher-ups for failing to protect children against sexual predator Jerry Sandusky, also revealed that every student attending Penn State from 1990 to the present day was aware of child molestation at their university.
Edgelords Explain Why They Love Elon Musk
"Of course I knew something was happening—during freshman orientation we were all told how much trouble the football program could get in if anyone found out about the horrible things that were happening," said Randall Silverman, a Penn State alumnus who graduated with a business marketing degree in 1998 and spoke to Freeh during the investigation. "Everyone realized how devastating that could be to Coach Paterno, who graduates so many players and does so much good in the community, so what were we supposed to do?"
Louis Freeh, who conducted his investigation with a team of former FBI agents and federal prosecutors, spoke at length to 1,734 Penn State students and alumni regarding the Sandusky affair and ensuing cover-up by officials. All 1,734 current and former students admitted to being aware of Sandusky's long history of sexually abusing children, and furthermore said they were certain the entire student body also shared in that knowledge.
"Oh, yeah, the sex-with-kids thing," said 2003 alumnus Gary Freeman. "I guess everyone knew about it, although there were lots better things to talk about, especially in football season. Hey, you don't think they'll take JoePa's statue down, do you? After all, he's everything this school stands for."
"I heard they even caught one of the guys that was doing it," said 2002 graduate Ryan Billingame. "We've all been wondering if that might happen. My college friends and I were all, like, 'Great. Now that everyone found out, we're going to be known as the school where the kids were raped.' No one's going to even think about how much money our annual two-day dance marathon raises for charity. I mean, the guy they caught wasn't even still here any more."
In addition to the abuse being universal knowledge among the student body, the investigation found the acknowledgement casually referred to on both unofficial university materials, such as yearbooks and event flyers, and official documents such as tuition bills and housing manifests.
The probe also discovered information about the child abuse cover-up in course listings, including the sociology department's wildly-popular undergraduate lecture course Sociology 0110, Acknowledging And Dismissing The Ongoing Sexual Abuse Of Children On Campus: Its Impact On Mass Behavior, Perceptions, And Nittany Lion Football, and its three required textbooks, all published by Penn State University Press.
"Every year, when I donated money to my beloved alma mater, I had to sign a disclaimer saying I knew that people directly associated with Penn State regularly had sex with children in the football locker room showers," said Mellissa Humboldt, who graduated with a teaching degree in 1996. "It's all part of the proud Nittany Lion tradition, which has raised so much money to help cure childhood cancer."
Investigators noted that, while all Penn State students they spoke to were open about discussing the scandal, they seemed surprised—even shocked in some cases—when asked why they themselves had not come forward with the information, evidently implying that the de facto institutionalization and condoning of child sexual abuse by university personnel did not outweigh the pride that they felt over being part of the Penn State tradition.
"I just don't think that staying quiet about the systematic and repeated rape of dozens of kids over a couple decades erases all the good that we've done, and if you talk to most Penn State students and graduates, I think they'd agree without even thinking about it," said Silverman. "We Are! Penn State!"