AKOBO, SUDAN—Despite a high-profile media endorsement featuring touching piano music, soft-focus photography, and the star power of former NFL great and television personality Merlin Olsen, Sudanese child Nwangi Botusa died Monday of what medical-relief authorities are calling "starvation."
Botusa, recalled by relief workers as a "bright child with a keen interest in Jesus, fighting against all hope for survival, and sitting on Merlin Olsen's lap," was six years old.
"I can't understand how this could happen," said Christopher Drake, volunteer-action coordinator for the Children's Miracle Fund, the non-profit charity organization for which Merlin Olsen taped the endorsement. "It seems almost as if, in today's cynical times, even a personal, direct appeal from an athlete/actor as esteemed as the great Merlin Olsen is not enough to get people to donate money to prevent the death of a child."
The hour-long endorsement, which had aired regularly at 3 a.m. on various cable networks over the last 28 months, was expected to generate a "significantly greater public response," Children's Miracle Fund officials said.
"When I think of the millions of dollars in airfare, equipment rental, camera-crew salaries, and editing and technical-support facility costs that went into making this endorsement, only to have Nwangi die because late-night television viewers failed to respond by opening their hearts and their wallets, I am filled with shame for the society in which we live," said Children's Miracle Fund president Dave Shurmur. "Where are our priorities?"
G/O Media may get a commission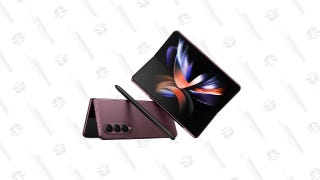 Save Up to $300
Galaxy Z Fold4
Olsen was similarly disappointed. "It is truly disheartening for a star like myself to be let down by his fans like this. I specifically appealed to my public not to let this precious child of God die, and this is what happens?" said Olsen, whose television career has included roles on the heartwarming family drama Little House On The Prairie and the modestly successful Catholic-themed early-'80s action/ crime drama Father Murphy, as well as numerous commercial and parade-host appearances. "I looked directly into the camera and said, 'See this child's eyes? These are the eyes of a beautiful young person who needs your help,' you know, the whole bit. But, apparently, millions of viewers figured, 'Let him die.' What is with people these days, anyway?"
Added Olsen: "I mean, shit, man."
Olsen expressed his condolences to the family of the deceased child with a "Dearly Departed" Commemorative Sentiment Floral Arrangement & Bouquet gift-basket set with cookie from FTD Florists, for whom Olsen has been a paid spokesperson for nearly two decades.
Children's Miracle Fund workers stationed in Botusa's home village of Akobo reported that the gift basket "deeply moved" members of the boy's family, as well as thousands of starving children in the area.
"As soon as the package arrived from the United States, the children set upon it like ravenous dogs, devouring the oversized chocolate-mint cookie and the foil wrapper in which it was encased for shipping in a mere matter of seconds," Children's Miracle Fund relief worker Dwayne Hentrich said. "It was truly moving to see the way their eyes lit up when they received the first solid food they'd eaten in weeks."
Hentrich said that shortly after eating the cookie, the children ate the accompanying flowers, foliage, ribbons, dirt and flower pot, as well.
"We Sudanese children know that many nutrients can be drawn from a soil-encrusted flowerpot, if it is sucked on with suitable vigor for enough days," nine-year-old Kiga Nuwali said. "The moisture and nutrients to be found in its crevices will keep us alive for as much as an additional 12 days."
FTD spokespersons said that, for those interested in sending their own message of sympathy and support to the children of Sudan, FTD will offer a special, limited-edition "Genuine Merlin Olsen" gift basket identical to the one sent by Olsen, containing a bonus souvenir keepsake photo of Botusa and Olsen, for just $29.95.
FTD officials stressed that quantities of the "Nwangi Not Forgotten" commemorative gift basket will be "extremely limited," and that interested parties should place their order "as soon as possible to ensure delivery in time for the holidays."