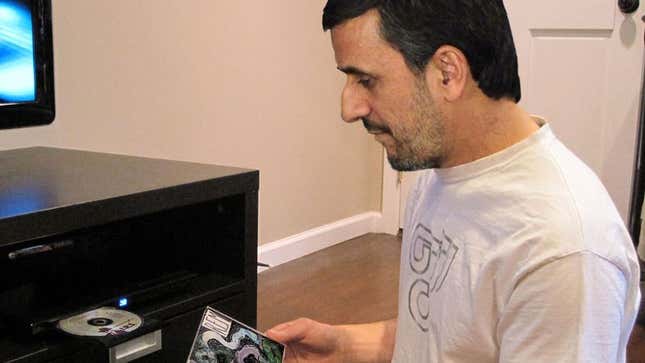 TEHRAN—Iranian president Mahmoud Ahmadinejad told reporters Thursday he was kind of getting back into old R.E.M. again, rediscovering his once-great passion for the alternative rock group's first six albums.
FBI Investigating Fourth-Grade Kid Who Said He Has Seen Over 200 Dead Bodies
Ahmadinejad, leader of the Islamic Republic of Iran's conservative political coalition, confirmed that ever since R.E.M. broke up in September 2011, he had been revisiting the Athens, GA band's catalog and was once again really digging its earlier stuff.
"Listening to some of those early albums they did for [record label] I.R.S. has reminded me of how great R.E.M. really was," said the 55-year-old former mayor of Tehran, who is known for his rigorous implementation of radical Islamist policies throughout Iran. "Stipe's cryptic vocals combined with Buck's bright, chiming guitar hooks, Mills' melodic bass lines, and the driving beat of Bill Berry's drums creates this ethereal sound that just completely kicks ass."
"They're basically like the original alternative rock band," the controversial world leader and Holocaust denier added.
G/O Media may get a commission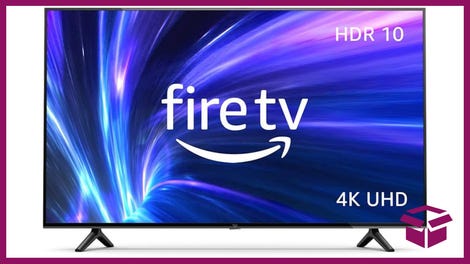 42% Off
Amazon Fire TV 50" 4K Smart TV
Ahmadinejad confirmed he first discovered R.E.M. in 1986 after stumbling across Fables Of The Reconstruction on vinyl at a record store in Tehran. At the time a civil engineering graduate student who helped crack down on dissident university professors and pupils, he said he was immediately infatuated with the band upon hearing the haunting guitar riff at the start of album opener "Feeling Gravitys Pull."
"I was already into the Replacements, Hüsker Dü, and Pylon, but R.E.M was like the perfect mixture of jangle pop and college rock, plus they had this really atmospheric quality that was all their own," said the man the terrorist group al-Qaeda once blasted for spreading conspiracy rumors about the 9/11 attacks. "You know the thunder effect on 'We Walk'? It's actually the slowed down sound of billiard balls colliding, but with the tape played back at a really slow speed. Pretty cool, right?"
Claiming the Grammy Award–winning band has always been "super important" to him as a source of reassurance in tough times, Ahmadinejad told reporters he never would have gotten through the stress of the 2009 Iranian election protests and Green Revolution if he hadn't pulled out his copy of Lifes Rich Pageant and "just put 'Fall On Me' on repeat."
"People don't give Lifes Rich Pageant enough credit, but it's really good—really good," said the Iranian ruler who has been widely condemned for his human rights record. "It's a great album to put on when you're traveling. When I went to the U.N. in 2005 to speak about Iran's right to develop nuclear power, I was listening to it all the time."
However, the hardline religious politician admitted to souring on the 1987 R.E.M. release Dead Letter Office, saying he now associates the group's compilation of rarities and B-sides with a later visit to the U.N. in which delegates walked out on an address filled with inflammatory anti-Semitic slurs.
Despite his enthusiasm, Ahmadinejad claimed he has had a difficult time getting fellow high-ranking Iranian officials into the band's work. While numerous members of the Islamic Consultative Assembly reportedly enjoyed the intentional campiness of the video for "Shiny Happy People," the majority of the legislative body failed to grasp how the tracks "Welcome To The Occupation" and "Lightnin' Hopkins" on Document were, in their president's opinion, "a major leap forward" for the band's songwriting.
Recently, aides confirmed Ahmadinejad's relationship with Iran's supreme leader Ali Khamenei, who agreed with the president's remarks that Israel should be wiped off the map, had been strained after the ayatollah issued a fatwa declaring R.E.M. had "totally sold out" with the release of Green.
"That's such bullshit. Green holds up great," Ahmadinejad said. "He only said that because it's the favorite album of his ex-girlfriend, who dumped him."