CHICAGO—American Trans Air Flight 282 from Chicago-Midway to Newark took a turn for the tedious Monday, when undercover air marshal Kirk Gillam was drawn into a conversation about passenger Terrence Delsman's patio for the majority of the two-hour flight.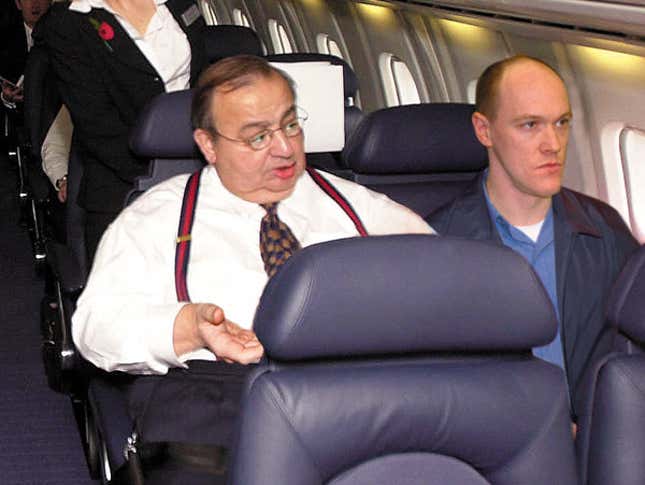 This Week's Most Viral News: September 29, 2023
"Most people just take whatever tiling option their contractor gives them," Delsman told Gillam. "But I did research online and opted for terracotta. I couldn't be happier."
Gillam is one of an estimated 4,000 marshals placed in the cabins of U.S. commercial airlines by Homeland Security Director Tom Ridge in an effort to tighten aviation security.
Gillam, a former Navy SEAL, trained for 12 weeks last year in tactical terrorist suppression aboard an aircraft. Delsman, who was traveling to Newark on business, single-handedly spruced up his backyard in July.
The flight-long discussion about patios was prompted by an umbrella advertisement in a SkyMall catalog sitting open on Gillam's lap.
"That's close to what I have in my yard," Delsman said. "But mine was a lot cheaper. A lot cheaper. I know this great place in Elmhurst that sells top-brand stuff. You should check it out if you're ever doing some remodeling."
Delsman also told Gillam about the difficulties he had getting his patio furniture delivered, the quality of his outdoor barbecue set, and the benefits of citronella candles over tiki lamps.
"The lamps just don't work as well as the candles," said Delsman, unaware of the 9mm automatic hidden inside Gillam's coat pocket. "The candles smell better, too."
"Uh huh," Gillam said. "Those come in the metal buckets, right?"
Gillam, who knows 18 different ways to disarm a knife-wielding adversary, nodded rhythmically as Delsman related the simple pleasure of lounging in his newly finished patio.
"Sure, it was hard work, but it was worth it," Delsman said. "Sitting out there in the summer with a drink in my hand, watching the sun go down… Sometimes I'll invite the neighbors over."
In an interview Tuesday, Gillam said he has learned to remain focused on his mission—preventing hijack attempts and ensuring the safety of airplane passengers and flight crew—even when he's involved in casual conversations.
"I'm not allowed to bring a book on board, and I certainly can't sleep, so talkative passengers tend to target me," Gillam said. "I'm on anywhere between two to four flights a day. Usually, people just talk about their kids or jobs, but this week, I've heard about everything from working at Disneyland to breeding Wheaten Terriers. It's really not that bad. Although I am kind of tired of talking about how many airlines don't serve dinner anymore."
Continued Gillam: "I do a visual scan of the entire cabin every five minutes while we're in flight, to see if anything is brewing, but the people talking to me don't seem to notice."
When asked his opinion of the U.S. government's decision to order foreign airlines to place armed air marshals on some international flights, Gillam seemed indifferent.
"I guess that would be fine," Gillam said. "It's part of my job to be flexible. I'm not much of a talker, though. I can usually get through these short trips, but an eight-hour flight to Ireland beside a Chatty Cathy might be more than I could handle. I should ask if I'm allowed to wear headphones as long as I have the sound turned off."
Ridge praised the air marshals for helping to keep the nation's skies safe.
"The marshals are to be highly commended," Ridge said. "Despite being forced into excruciatingly mundane conversations about everything from stock portfolios to the proper way to make a pork roast, these men remain vigilant. Because of their efforts, an average member of the American public can feel safe babbling about his aunt's cataract surgery for two hours. For that, we should all be thankful.