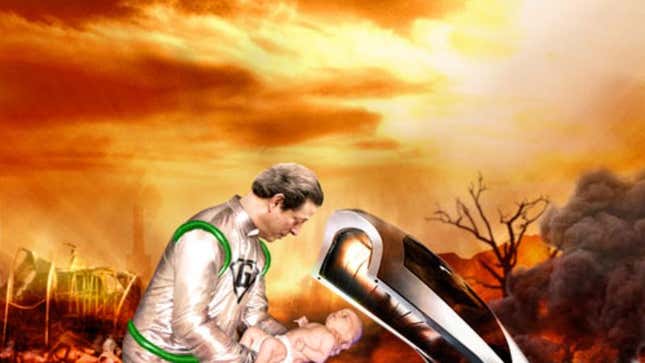 EARTH—Former vice president Al Gore—who for the past three decades has unsuccessfully attempted to warn humanity of the coming destruction of our planet, only to be mocked and derided by the very people he has tried to save—launched his infant son into space Monday in the faint hope that his only child would reach the safety of another world.
Edgelords Explain Why They Love Elon Musk
"I tried to warn them, but the Elders of this planet would not listen," said Gore, who in 2000 was nearly banished to a featureless realm of nonexistence for promoting his unpopular message. "They called me foolish and laughed at my predictions. Yet even now, the Midwest is flooded, the ice caps are melting, and the cities are rocked with tremors, just as I foretold. Fools! Why didn't they heed me before it was too late?"
Al Gore—or, as he is known in his own language, Gore-Al—placed his son, Kal-Al, gently in the one-passenger rocket ship, his brow furrowed by the great weight he carried in preserving the sole survivor of humanity's hubristic folly.
"There is nothing left now but to ensure that my infant son does not meet the same fate as the rest of my doomed race," Gore said. "I will send him to a new planet, where he will, I hope, be raised by simple but kindly country folk and grow up to be a hero and protector to his adopted home."
As the rocket soared through the Gore estate's retractable solar-paneled roof—installed three years ago to save energy and provide emergency rocket-launch capability in the event that Gore's campaign to save Earth was unsuccessful—the onetime presidential candidate and his wife, Tipper, stood arm-in-arm, nobly facing their end while gazing up in stoic dignity at the receding rocket, the ecosystem already beginning to collapse around them.
In the final moments before the Earth's destruction, Gore expressed hope that his son would one day grow up to carry on his mission by fighting for truth, justice, and the American way elsewhere in the universe, using his Earth-given superpowers to become a champion of the downtrodden and a reducer of carbon emissions across the galaxy.
"Perhaps he will succeed where I have failed," Gore said.
Despite the child's humble beginnings, experts predict the intergalactic journey may have some extraordinary effects on Kal-Al's physique, eyesight, and, potentially, his powers of quiet, sensible persuasion.
"On his new planet, Kal-Al's Earth physiology will react to the radiation of a differently colored sun, causing him to develop abilities far beyond those of mortal men," political analyst Sig Schuster said. "He will be faster than a speeding Prius, stronger than the existing Superfund program, and able to leap mountains of red tape in a single bound. These superpowers will sustain him in his never-ending battle against conservatives, wealthy industrialists, and other environmental supervillains."
Although Gore and his wife voiced regrets that they could not accompany their son on his journey, they tried their best to equip Kal-Al for life on his new planet, providing the infant with a Keynote slide-show presentation of all human knowledge, a self-growing crystal fortress from which to monitor glacier shrinkage, and a copy of Al Gore's 1992 bestseller, Earth In The Balance.
The baby was also wrapped in a blanket emblazoned with the Gore family crest, which, because it is made of Earth materials, will be invulnerable on the new planet. It is hoped that one day it will be fashioned into a colorful costume for the boy to wear while fighting wrongdoers.
"In brightly hued tights, it will be harder for people there to ignore him when he takes on his new planet's lobbyists, auto manufacturers, and enemies of justice," Schuster said. "A bold and eye-catching unitard will give Kal-Al, last son of Earth, a formidable tool for protecting his new planet, a power more awesome than any his father could have dreamed of: the power of charisma."