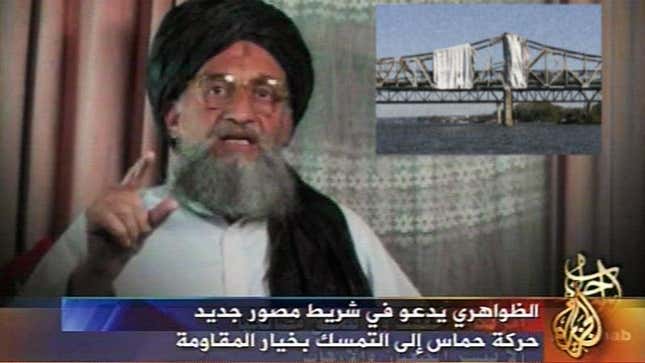 WASHINGTON—In a 30-minute video released Thursday, al-Qaeda leader Ayman al-Zawahiri criticized the mass transportation infrastructure of the United States, claiming significant repairs and upgrades would need to be implemented before the militant group would consider destroying any roads, bridges, or railways with terrorist attacks.
Jimmy Carter Becomes World's Heaviest Man At 850 Pounds
Reading from a prepared statement, al-Zawahiri blasted the U.S. government for its lack of foresight and admonished its leaders for failing to provide Americans with efficient and reliable modes of public transport to reduce traffic congestion, lower carbon emissions, improve air quality, and supply suitable targets for terrorists.
"The al-Qaeda network is fully prepared to continue the jihad against the American infidels by launching deadly attacks, but your outdated and rusting transportation infrastructure needs to be completely overhauled for those strikes even to be noticed," al-Zawahiri said. "We want to turn your bridges into rubble, but if we claimed credit for making them collapse, nobody would ever believe us."
"We'd really just be doing you a favor because then you'd actually have to rebuild them," al-Zawahiri added.
The al-Qaeda commander confirmed his organization initially hoped to cripple travel in the United States by destroying its nationwide high-speed rail system, but had been shocked to discover no such thing exists. Calling it a cost-efficient, modern way of travel that would serve as a boon to small businesses and the national economy, al-Zawahiri implored U.S. officials to invest in not just one high-speed passenger train network, but many of them, so they could all be blown up simultaneously in a signature al-Qaeda attack upon the nation's major population centers.
Throughout the threatening video, the terrorist leader questioned the priorities of American politicians, asking why they would refuse to fund engineering projects that would create jobs, bombing opportunities, and new ways for the U.S. compete globally.
"It's ridiculous that the Netherlands, the world's 16th-ranked economy, is continuously investing in its infrastructure, while the No. 1 economy simply refuses to enter the 21st century," said al-Zawahiri, adding that Americans should be ashamed of having only one operational high-speed rail line, considering the Dutch have 120. "And of course, we don't want to bring the Netherlands to its knees and make its people question the unholy excesses of their way of life. No one would care if we did that."
"Also, to the Great Satan American leader Barack Obama: Investing in mass transit infrastructure would have positive, long-term effects for the environment," he added. "Stop being so shortsighted."
Al-Qaeda sources confirmed that members of terror cells living in America regularly complain about the extreme difficulty of traveling around the country and say it has prevented them from doing their jobs effectively. A plot to destroy O'Hare International Airport was reportedly abandoned after constant flight delays made coordinating an attack nearly impossible.
In addition, al-Zawahiri said a terrorist attack on O'Hare couldn't make the commercial aviation center any worse.
He also revealed the terrorist organization had wasted six months planning to take down Amtrak's regional operations before realizing that with its constant delays and malfunctions, the government-owned passenger train service "basically terrorizes itself."
"We spent countless hours on training, surveillance, and intelligence-gathering for absolutely nothing," al-Zawahiri said. "We falsely assumed that disrupting key Amtrak lines would instill fear and cause chaos throughout the nation. Unfortunately, the overall impact and limited number of casualties wouldn't even make it worth the effort."
While al-Zawahiri mainly focused on reprimanding the U.S. for not updating its mass transportation system, the al-Qaeda leader also recommended the government repair sewage treatment plants, dams, waterlines, and the power grid.
"Frankly, America is a complete mess," al-Zawahiri said. "How could we even think about cutting electricity across multiple states, leaving millions of Americans terrified in darkness, when there are brownouts all the time? And of course, we would like nothing better than to poison your lakes and rivers, but it looks like you already beat us to it."
"At least the Empire State Building is still standing," he added.