NEW YORK—After suffering through much of the year with an aching heart, shattered self-image, and severely hurt feelings, Alex Rodriguez was placed on the 15-day emotionally disabled list, though the Yankee slugger did not rule out the possibility that the emotional wounds he has had to endure this season "may never truly heal."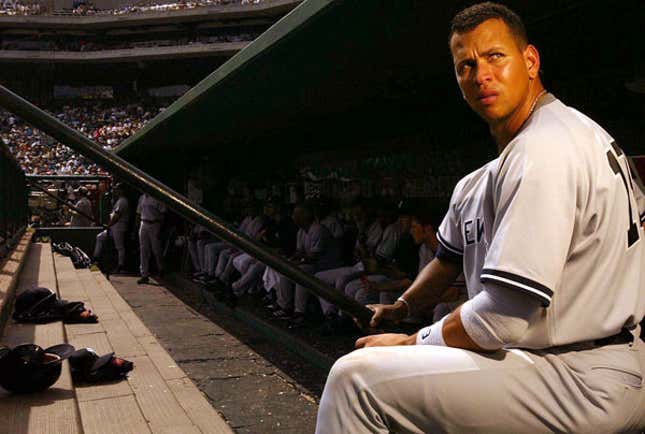 This Week's Most Viral News: September 29, 2023
"There is an intense, burning pain deep within me, accompanied by a sinking feeling of complete and total emptiness inside," said Rodriguez outside his locker Monday night, moments before throwing his tear-stained jersey to the ground and burying his head in his hands. "It's just too much. I wish it would all just go away."
"It hurts more than anyone will ever know," Rodriguez added.
Rodriguez—whose thin skin, remarkable sensitivity, and vulnerable nature have made him susceptible to chronic emotional problems—had been exhibiting the telltale signs of mental weakness all season, marked by temporary rapid swelling of the ego followed by alternating bouts of extreme coldness and unusual soreness. However, the incident that triggered the "major, irreparable damage" to Rodriguez's psyche occurred during last Saturday's game, when fans booed him for striking out to end the seventh inning.
"When it happened, you could just see in his face that something was wrong, that he was trying hard to hide the pain he was feeling on the inside, but then he just audibly snapped—you could hear it all the way from the bleachers," said teammate Bobby Abreu, who watched from first base as Rodriguez "came apart right there on the field."
"It was painful to watch," he continued. "[Rodriguez] started flailing around, rocking back and forth on the ground, crying uncontrollably… I had to look away. Frankly, I was disgusted."
A team of Yankee therapists immediately rushed onto the field and administered a series of soothing, reassuring hugs, to which Rodriguez was unresponsive. Rodriguez was then transported to a nearby psychiatric hospital, where he remains in unstable condition.
Yankees manager Joe Torre said that Rodriguez will be emotionally unavailable for this weekend's series, and possibly for the rest of the season.
"A-Rod had been working hard with his mental-skills coach all season to strengthen his resolve, toughen his mind, and build up his self-esteem, but in the end, he applied too much pressure too early, and he just broke down," Torre said. "I just want A-Rod to know that we all think he's a very, very good baseball player, and that he's been doing a great job as a New York Yankee."
Rodriguez is set to begin an offseason rehabilitation program, which includes following a strict regimen of mental conditioning, taking mind-strengthening medication such as Prozac, and believing in himself.
However, Yankees assistant emotional-healing coach Lee Mazzilli was skeptical of the possibility of Rodriguez making a full recovery, saying that it would be "a miracle" if Rodriguez ever gets over the hurt he is feeling right now.
"Comprehensive tests and quiet, understanding questioning seem to indicate that A-Rod has been playing all season long with a broken heart," Mazzilli said. "It's possible that if he didn't overextend himself, his heart would've healed on its own, but to keep going out there and opening yourself up to that kind of constant abuse and harsh, brutal stress each night… He could've torn it right in half."
"It's possible his broken heart may never mend," Mazzilli added.
Rodriguez's spot on the roster will be filled by Gary Sheffield, who on Friday is eligible to be activated from the 60-day mentally disabled list.