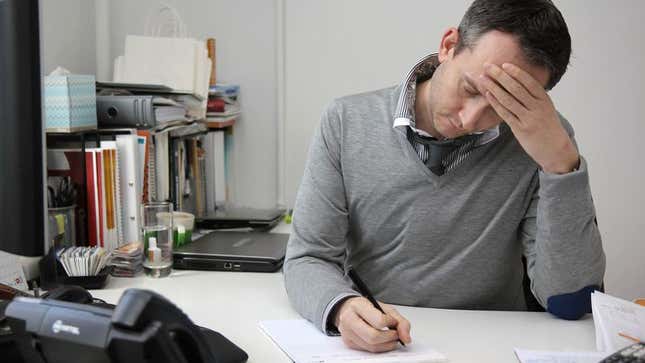 SAN DIEGO—Following seven straight years of long hours at the office and sacrificed weekends and holidays, all of account manager Sam Hemstead's hard work and single-minded devotion to Pinnacle Automotive Insurance has finally paid off for CEO Charles Pardahee, Pardahee said Friday.
This Week's Most Viral News: September 22, 2023
"There were definitely some nights I'd lie awake in bed and wonder, 'Is Sam absolutely killing himself day in and day out for nothing?'" Pardahee told reporters while driving to his weekend home in a recently purchased 2012 BMW luxury sedan. "But Sam just put his head down and never looked back, and this year his blood, sweat, and tears have proven profitable to the tune of a 15 percent larger bonus for myself."
"It just goes to show that if you're really passionate and dedicated, eventually it all comes back around to your superiors," Pardahee continued.
The stress-related physical and psychological tolls for Hemstead, 34, have been high, but the hypertension, weight-gain, and crippling migraine headaches he has suffered due to his rigorous work schedule have been worth the rewards he has reaped for his employer, Pardahee confirmed.
"I'm sure there were times when Sam wondered if it was all really worth it, especially considering he had to pay for a lot of his medication and doctor's visits out of his own pocket," said Pardahee, who in 2009 forced all his account managers to become contract employees so he would no longer have to provide them with health care benefits. "But he never complained once, and now that Sam has helped Pinnacle earn record profits by not taking a single day off for more than five years, I can finally relax and take another long vacation to Turks and Caicos. After all, Sam earned it for me."
The CEO added that nothing is more satisfying than a job well done by someone else.
While Hemstead's total devotion to the company has come at a steep personal cost, these too are reportedly acceptable considering the immense financial gains and professional accolades he has garnered for Pardahee.
"When Sam's wife filed for divorce  and eventually won custody of his two daughters, he completely threw himself into his job in an attempt to cope as his life fell apart all around him," Pardahee said. "That was great, because it allowed me to drastically scale back my workload and spend even more time with my wife and children."
"Seeing most of his paycheck go to child support has made me really value all the things I can do with my kids because of Sam's hard work," Pardahee continued. "Considering all he continues to do for this company without even thinking about taking a break, he's afforded me all the time in the world to just enjoy life and not be defined by my job."
According to the CEO, Hemstead's contributions to Pinnacle Insurance will pay even greater dividends when he is let go and replaced with a college graduate willing to work for half the salary, allowing Pardahee to give himself a substantial raise.