FLAGSTAFF, AZ–"Mommy, Woofers is lonely out there in the doghouse! He wants to come in and play!" says attention-starved Billy Tobin, 10.
"That dog doesn't care about being in this house! He just wants to run around," counters mother Janet Tobin, 44, an unhappily married homemaker.
"Will you two be quiet? All that poor dog wants is to be left alone!" says Bob Tobin, 50, world-weary father and unfaithful husband to Janet.
So goes a typical exchange with the Tobins, a dysfunctional Flagstaff family whose members possess an uncanny ability to project all of their various neuroses onto the innocent psyche of Woofers, the family dog.
"It is not unusual for a neurotic personality to project unresolved issues onto an infant, pet, house, or other neutral entity that is incapable of expressing its own opinions and feelings," said University of Arizona psychology professor Dr. Jonah Douglas. "But while such projection is far from uncommon, the fact that this family has managed to project every last one of its problems onto a single being, Woofers the dog, is truly exceptional."
G/O Media may get a commission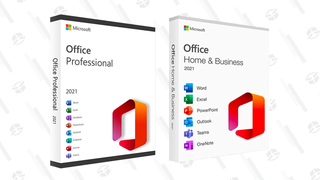 89% off
Microsoft Office Professional 2021 Lifetime License
The use of Woofers as a third-party neurosis receptacle is a daily occurrence within the Tobin household, with unspoken dissatisfaction, pain, and anger constantly displaced from its true source and transferred to the tabula rasa that is, for them, the dog's psyche.
Said Douglas: "Thanks to Woofers, the Tobins need never directly confront any of their longstanding personal and interpersonal issues, enabling them to perpetuate their self-defeating behaviors in an endless cycle of collective denial. He is the emotional glue that keeps this horribly maladjusted clan from tearing itself apart."
Grandmother Ellen Tobin, 78, who lives in constant fear that she will be put away in a rest home, tells fellow family members that "Woofers is never coming back" every time the dog is not in the same room as her.
"Where's Woofers? Where's Woofers?" Ellen shouted at daughter Janet recently. "You sent him to the pound, didn't you? Didn't you?"
Similarly, 14-year-old Renee Tobin constantly berates the animal for being "smelly, mangy, and ugly"–not realizing that she is actually expressing deep-seated insecurities about her own changing body and budding sexuality. "Can't somebody ever give that dog a bath? It's gross!"
Another telling incident occurs when Billy returns home from elementary school, where he is unpopular and alienated, to a home where he receives little affirmation and approval. He passionately hugs Woofers, mistakenly believing that the dog is sad and lonely without him.
"You just need some love," says Billy, offering Woofers a treat as he gazes at the dog's blank, uncomprehending face. "You're by yourself all day long, and you must've really missed me, huh, Woofers? Isn't that right? Yes, it is. Yes, it is."
When Woofers responds enthusiastically, jumping up and down in response to the attention and food he receives during this daily greeting ritual, Billy erroneously interprets this as a sign of the dog's agreement with what he is saying.
"Get that dog off my bed right now!" yells Janet, whose repressed awareness of her husband's longtime infidelity has led the pair to sleep in separate beds for the past six years. "Put him out in the yard where he belongs. That's all he wants anyway–to run around, sniffing every tree and bush in the neighborhood!"
"If that dog wants to run around all night long, let him," adds Janet, totally unaware of the transparent nature of her oft-repeated complaint. "He's just going to be scratching at the door all night anyway if you don't let him out. If that's what he wants, why keep him cooped up in a place he obviously hasn't wanted to be for a long time? Who cares what he does all night, so long as he's not doing it here? Let him howl at the moon all night for all I care."
"Must you snipe at him all day long?" Bob responds. "He's had it up to here with all the shouting. Great, now he's whining again. I hope you're happy. He can't take all this constant noise. Dogs have very sensitive hearing, you know. Look at his face! Can't you see that you're driving the poor animal crazy? No wonder he wants to get out."
Though the Tobins are deeply troubled, they can feel confident that they will not have to confront any of their problems any time soon, thanks to the heroic, if unintentional, role that Woofers plays in their lives.
"To the best of my knowledge, in the annals of modern psychiatric science, there has never been a case of one creature serving as an essential emotional proxy to so many people," Douglas said. "Woofers must indeed be a profoundly exceptional animal. A lesser dog would have cracked under the strain of so many mutually contradictory projections long ago."