WASHINGTON—Stating it is time to rethink how the nation lays a foundation for a better tomorrow, President Barack Obama announced Wednesday that all of the federal government's resources will now be directed exclusively toward the 50 children who actually represent the country's future.
"Ensuring the continued prosperity of our great nation is my number-one priority as president," Obama said during a press conference, standing alongside Cabinet members and several of the nation's few dozen legitimately promising minors. "And there is no use squandering any more of our valuable time and money on the myth that every child is capable of attaining success and one day changing the world. That simply isn't true."
"It is absolutely essential that we cut our losses now and focus only on those talented young Americans who will in fact usher in a brighter, better America. Namely, Malik Roberts, the Zelenev twins of Maryland, and 5-year-old Ella May here," Obama continued. "These particular children are our future."
According to Obama, under the bipartisan-backed initiative known as America's 50 Stars, the handful of future medical pioneers, technology innovators, and titans of industry will henceforth receive the roughly $1 trillion previously spent each year on the 76 million American youths who the president said are, "quite frankly, not our country's next, best hope."
G/O Media may get a commission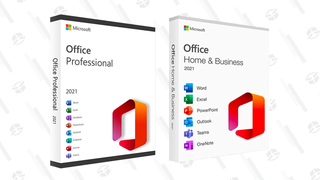 89% off
Microsoft Office Professional 2021 Lifetime License
Noting the vast majority of American children are not even capable of leading the United States into "a decent era, much less a bold new one," officials confirmed the nation has already begun to shutter schools and universities nationwide; wind down programs such as Head Start, Federal Student Aid, and the Children's Health Insurance Program; and end all other government spending on the 99.9 percent of children determined by experts to certifiably not be our nation's most valuable natural resource.
"In challenging times such as these, there is really no use in pretending all of our children represent the best we have to offer, because in every conceivable sense, that just isn't the case," said Education Secretary Arne Duncan, adding that operating under this delusion had cost the nation untold trillions of dollars. "We want our country to remain strong and competitive, obviously, and for the next generation to make a better world than the one we left for them. Therefore—and trust me on this—we must put everything we have into these 50 kids, and only these 50 kids, because their less meritorious peers are, by comparison, outright dullards."
Thus far, the plan has elicited sharp criticism from parents nationwide. Many have attacked the 50 Stars program as unfair and profligate, citing its $20 billion in annual spending per pupil on items such as particle colliders and radio telescopes, as well as its highly favorable 1-to-18 student-teacher ratio and faculty composed entirely of Nobel laureates.
In response to this criticism, the government has launched a campaign aimed at comprehensively informing irate parents just how inferior their children are in every quantifiable category.
"The hand-selected children in the 50 Stars program display boundless levels of intelligence, creativity, and academic curiosity, and will surely guide our country into a thrilling new age of economic expansion and scientific discovery," Duncan said. "Take 7-year-old Jesse Dominguez, who has already mastered calculus. If any parents out there can prove their children are capable of anything even remotely close to that, then by all means let us know. Otherwise, sorry, but there's nothing we can do for you."
According to members of Congress, in addition to saving taxpayer dollars by eliminating the need to purchase thousands of copies of textbooks, the plan will force the vast majority of Americans under 18 to "fend for themselves," ensuring that disease and infighting thin out their numbers markedly and thereby further reduce the federal budget.
"Honestly, whether we implement this program or not, the entire nation will eventually be reliant on these 50 remarkable children for jobs and societal advancement—all we're doing is ensuring they are as prepared as possible and cutting out the wasteful spending on everyone else," said Sen. Marco Rubio (R-FL), explaining that the "sooner Americans accept this fact, the smoother things will go." "My advice to the rest of the nation's kids is to sit down, be quiet, and await your orders from our future leaders."
"And please, don't attempt to pull yourselves up by your bootstraps and succeed on your own," Rubio added. "We've seen how well that's worked in the past."