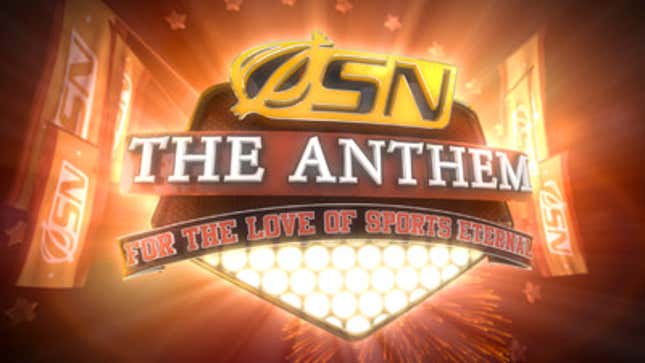 All the great countries in the world have anthems. Since the Onion Sports Network is greater than all the countries in the world, it is only fitting that we should have our own anthem more glorious and majestic than any other anthem out there.
CDC Issues Dire Warning That Nick Cannon Is Feeling Horny
We are pleased to present to you now the lyrics and audio to For The Love Of Sport Eternal, the new OSN anthem that will be giving you chills and making you cry for the foreseeable future. Feel free to write additional stanzas and submit them to OSN: much like the love of sport, we would like, one day, for this anthem to also be eternal.
Listen to an exclusive passage here
Remember, this is a finely honed, carefully crafted anthem. All nine stanzas must be sung in any one rendition, or all honor and pride the singer is hoping to invoke will be lost and replaced with shame:
For the balls are in the air
And the crowd is in their seats
OSN we celebrate
Your most daring of feats!
We pluck balls from the air,
Throw the long pass downfield,
OSN to your mighty
Sports cov'rage we yield!
Well the roundballs will bounce
And the sneakers will squeak
OSN will stand strong
And bring sports to the weak!
The fans start to cheer
And they get to their feat
For OSN, it is here —
And the cheers, they repeat!
The arenas are filled
With sports' fortunate few
OSN brings the rest
A superior view!
The arenas are filled
And the fans start to cheer
As OSN takes the court
And defeats all our fear!
OSN in the ring
OSN on the court
If the O isn't there,
Then it isn't a sport!
Score the points for your team
And the triumph is yours
OSN brings you fame
It will open the doors!
Where our heroes are born
And the villains are slain
OSN, you can make
Purest beauty from pain!