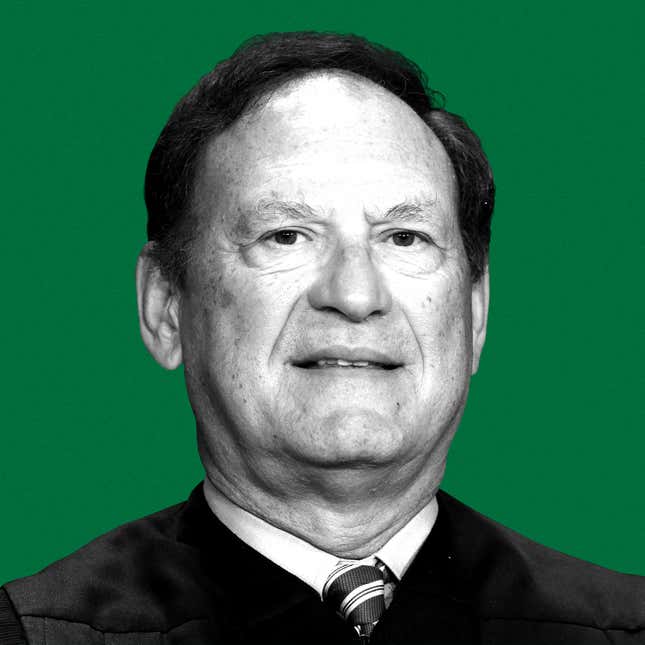 On Friday, June 16, ProPublica leveled two shameful and baseless accusations against me. First, that I should have recused myself from cases based on a fishing trip I took with Paul Singer, and second, that I should have filed said trip on a 2008 Financial Disclosure report. Neither charge, however, is valid.

This Week's Most Viral News: September 29, 2023
Also, I shouldn't have had to disclose that I had sex with a fish.
I, as an associate justice of the Supreme Court, have indeed consummated a sexual relationship with a 30-pound wild-caught Alaskan King Salmon. But, for the following reasons, I should never have had to make it known to the American public that I enjoyed it, and later stuck my penis inside it again and again.
• Recusal. As someone who has successfully ruled on countless cases over the course of his long and storied legal career, I can assure you that doing mouth stuff with a fish is more than acceptable, and in many cases, highly encouraged. Yes, I went on a fishing trip, and yes, the soft, wet guts of a fish brought me an orgasmic pleasure I had never felt in my 73 years on this Earth. And yet, does that affect my ability to rule impartially? Absolutely not.
"There is an appearance of impropriety when an unbiased and reasonable person who is aware of all relevant facts would doubt that the Justice could fairly discharge his or her duties" (Statement on Ethics Principles and Practices appended to letter from the Chief Justice to Senator Durbin, April 25, 2023). But enough of that legal mumbo jumbo. I'd rather talk about the beautiful salmon, and its tight lips, soft tongue, and the way its slimy body felt. The way its gills heaved up and down as I firmly pressed it to my groin.
Never, not once, has the fact that I stood nude in an Alaskan river, became fully erect, and—in a moment of both boyish curiosity and intellectual genius—stuck my member inside a fish then almost immediately ejaculated, interfered with my ability to rule on cases with impartiality, dignity, and honor.
I want to stick a fish under my robes right now.
• Reporting. Under my interpretation of the Ethics in Government Act, there is no reason I should have had to report the fact that on that fateful day, both I and Paul Singer discovered one of God's most forbidden pleasures as we held flopping, gasping fish with our bare hands. Black's Law Dictionary defines "bestiality" as "a sexual act with an animal that is a felony and carries 1 to 5 years in prison." But Paul and I know it means so much more.
According to said act, I should never have had to disclose the following things: the fact that I yelled the word "fish" when I climaxed, the fact that Paul yelled "fish" after he climaxed, the fact that we both immediately began to weep post-orgasm with the fish, the fact that now my genitals always smell like cans of salmon. Act, see 5 U.S.C. App. §111(3).
As for the fish, I stuck my penis into a mouth that would have otherwise been vacant. In many ways, I did the fish a service.

In brief, the facts of my sexual act with a fish are as follows. I, Samuel Alito, was balls-deep in a salmon. In addition, I plunged my pinky finger deep into the salmon's cloaca. As I recall, the whole thing took abut 60 seconds, and then I threw it back into the water.
Also, the fish bit my penis. I liked that.
Samuel Alito is an associate justice for the Supreme Court who is currently having sex with another fish.