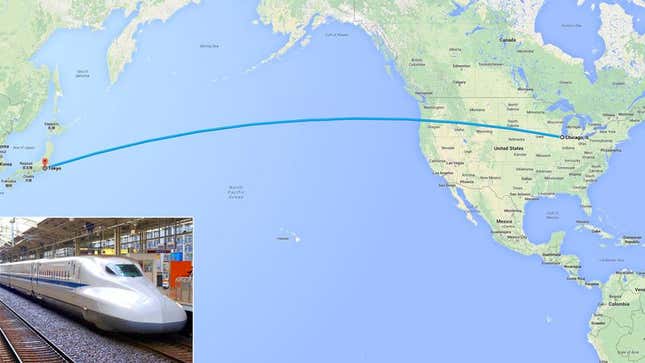 WASHINGTON—In an effort to bring the United States' transportation network "into the 21st century," President Barack Obama unveiled an ambitious new high-speed rail plan Friday that will fly Americans to Japan in order to use the island nation's extensive, state-of-the-art train system.
Edgelords Explain Why They Love Elon Musk
According to the president, the $80 billion initiative will subsidize airline tickets between the U.S. and several major Japanese cities, allowing the American people to enjoy all the benefits of a modernized network of high-speed trains as soon as their international flights touch down in the East Asian country.
"After years of lagging behind other industrialized nations, this new plan at last provides our citizens with a cutting-edge passenger train network that will rival the world's most advanced transit systems," said Obama at a morning press conference, touting Japan's fast, safe, and comfortable Shinkansen rail network as a vital upgrade to the U.S.'s outdated Amtrak service. "Under this new plan, all Americans will be able to travel quickly and reliably between hundreds of destinations by simply taking a trans-Pacific flight across nine time zones and then boarding one of dozens of lightning-fast, ultramodern trains."
"The transit system that the U.S. has needed for so long is now just a 7,000-mile plane journey to Tokyo's Narita International Airport and a brief passage through Japanese customs away," Obama continued.
In his speech, the president emphasized the vast improvement in efficiency that would be achieved through his proposal, claiming that residents of population centers such as Miami, Seattle, and Detroit would soon have ready access to 1,500 miles of dedicated high-speed rail tracks via a short drive to their nearest airport and a series of connecting flights and layovers.
Administration officials stressed that, after their transoceanic journey, Americans would be able to avoid the hassles of driving by "sitting back and relaxing" on a bullet train as they crossed the countryside at speeds of up to 200 miles per hour, passing through both major cities and smaller, rural prefectures on the Tōkaidō line and seven other reliable, congestion-free rail routes. Additionally, White House officials noted that passengers would be able to travel between Tokyo and Osaka in just two and a half hours, following their 10 or more hours of plane travel.
Sources confirmed that the new system would also be far more environmentally sound than current transportation methods, as Americans would no longer have to depend on fuel-intensive, smog-producing automobiles or buses and could instead travel across the landscape of a different continent in comfort aboard the rail system's fully electric and "whisper-quiet" train cars.
"Imagine stretching out in a spacious berth in a sleek, 16-car Hikari train following a quick red-eye from O'Hare, LAX, or LaGuardia," Secretary of Transportation Anthony Foxx told reporters, noting that travelers will have the option of either purchasing individual tickets for the kakueki teisha trains or acquiring a 21-day unlimited pass for approximately 60,000 yen. "Any American citizen who wants to experience the ease of high-speed rail travel, and who has an up-to-date passport and an English-Japanese phrase book, will be able to fly straight to Japan to do so."
Thousands of commuters confirmed that they have already booked their overseas plane tickets in order to take advantage of punctual, frequent rail service between major Japanese cities, hailing the new system as a welcome alternative to the stress and waste of existing U.S. transportation methods.
"Around here, we don't have that many dependable mass transit choices, so I'm excited about trying out these new trains once I can get a few days off from work and take a flight over," said Cincinnati resident Christopher Thomas. "Now, there's nothing stopping me from packing a suitcase, hopping on a 747, and, after filling out and submitting an official declaration form upon arrival, taking a train absolutely anywhere I want within the country."
"It's great," he added. "I'm just glad the U.S. finally decided to invest in our future and make high-speed rail travel a reality."