HOLLYWOOD—Even after 15 years of tireless labor and a score of agonizing near-misses, the staff at America's Funniest Home Videos said Monday that they do not intend to quit until they have found the nation's funniest home video.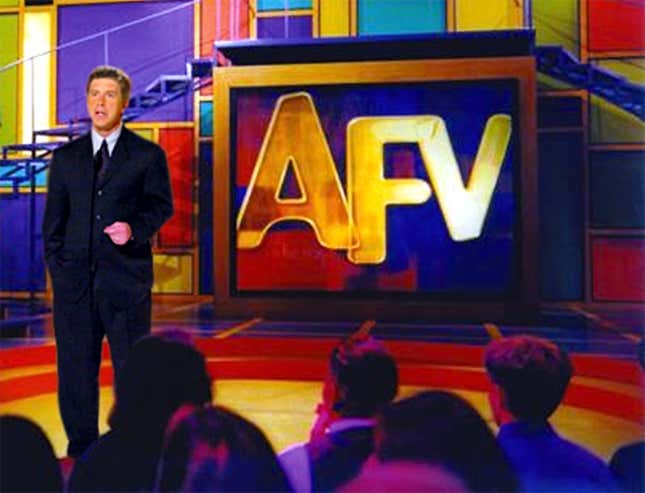 This Week's Most Viral News: September 29, 2023
"It has been a very long search, but our job isn't done," said Tom Bergeron, the current host of the long-running ABC show. "If we had set out to collect, catalog, and air some of the funnier home videos in America, the show would be off the air already. But everyone involved agrees that, when we chose the word 'funniest,' we made a promise to our viewers. This show will not stop airing until we've delivered on our promise, and found that video."
Since 1990, America's Funniest Home Videos' producers, technicians, and hosts have spent millions of hours poring over viewer entries, listening to sound-effects compilations, and tirelessly airing the fruits of their collective labor before carefully selected focus groups.
Executive producer Vin Di Bona said he never expected the search to go on for so long.
"When we set out on this quest, we assumed it would take two, three years tops," Di Bona said. "We thought someone out there in America had the funniest home video at the ready, and we'd just give it a national audience. Fifteen years later… Well, we know the video is out there, but sometimes, late at night, I do worry that it's locked in a trunk somewhere, and we'll never get our hands on it."
Di Bona said that, although the show has aired hundreds of classic moments—dogs talking, elderly men de-pantsed, and comical water-skiing accidents—no video has been "the one."
"We've come close," Di Bona said. "Parallel-Parking Grandma was almost there. If only she'd knocked over two more lawn ornaments. Or if we'd just nailed the sound effect. We knew the 'boing' wasn't enough, but we felt the 'ker-boinnng, waaaah' was too much."
Di Bona had difficulty pinpointing what his team is looking for.
"When we see it, we'll know it," Di Bona said. "It's not as simple as determining whether a cat is funnier than a cockatiel. There are a million X-factors involved—timing, framing, how onlookers react when the groom falls into the cake."
"I could throw criteria around all day," Di Bona added. "The simple truth is that, if a video doesn't cause an immediate gut reaction, I toss it in the garbage."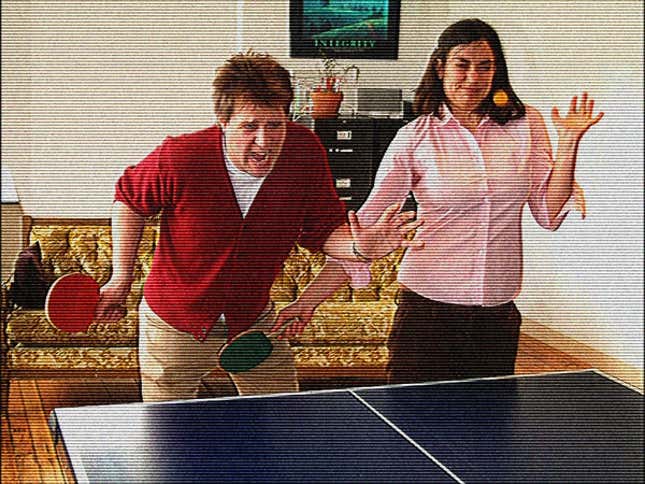 According to Di Bona, staying focused on the quest for the ultimate funny home video has put a lot of pressure on the show's hosts.
"[Original host] Bob Saget was a man obsessed," Di Bona said. "After working on Full House, Bob was really excited to do a show with a purpose. But the 80-hour weeks started to wear him down. One late night during season six, Bob flipped. He started cursing, throwing things, and screaming that we were no closer to finding America's funniest home video than we were when we started. In 1997, when he heard the news that Germany had found their nation's funniest video, he quit. He couldn't take the pressure anymore."
Added Di Bona: "I still have faith that we'll find that perfect clip. And, at that point, we'll go off the air—in triumph."
Boston resident Nathan Lister is one of thousands of viewers who contend that Di Bona should end his search.
"I don't see how anyone could see the 1997 clip 'Boy Loses Mug' and argue it's not the one," said Lister, who founded It's Over, a group that advocates naming the clip America's funniest home video. "You can watch it without the 'bonk' or the slide whistle or Bob Saget's post-clip commentary—it's still hysterical. It's the scene that every home-video enthusiast dreams of: that perfect combination of youthful innocence and genital pounding."
The 13-second clip features a medium-shot of a 4-year-old boy sitting in a highchair and waving his juice mug while his father prepares him a bowl of cereal. The father struggles with the bag until it rips, sending cereal flying into the air. The surprise causes the boy to jerk his arm, and his cup slips from his hand and flies into his father's genitals. A golden retriever rushes in to eat the spilled cereal, jumps on the prone, agonized father, and the camera swivels back to the confused, worried face of the boy.
"The timing in 'Boy Loses Mug' is absolutely perfect," said Lister. "We've petitioned ABC to rerun the clip, but they keep giving us the runaround. We want people to see that the title of America's funniest home video is not up for grabs."
Continued Lister: "The goal of America's Funniest Home Videos has already been achieved. Why ABC would want to beat a dead horse like this, I have no idea."