WASHINGTON, DC—In workplaces as diverse as a Payless ShoeSource in Andover, NH, to Tyson Foods' largest plant in Emporia, KS, American workers joined their international counterparts Monday in commemorating the 10 millionth "Bring Yourself To Work Day" with brief, mandatory celebrations.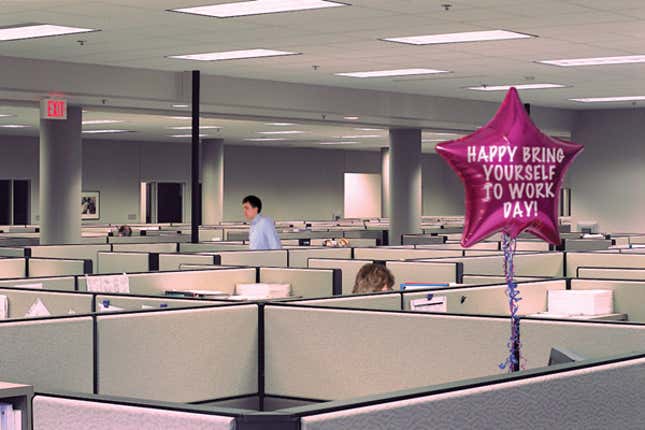 Study Finds LSD Highly Effective At Ruining Nephew's Baptism
Bring Yourself To Work Day is a special workplace event observed five times weekly, and sometimes more, in every factory, office, warehouse, restaurant, and retailer of goods or services worldwide. The event has been used for generations in the U.S. and other industrialized nations as a way to instill in the workforce a sense of responsibility through repeated exposure to a largely unfulfilling work environment. It also introduces otherwise inactive adults to the benefits of steady employment and the importance of punctuality.
"This is really a positive experience for everyone involved," said Secretary Of Labor Elaine Chao in a special ceremony at her own Washington office, during which her staff ate slices of cake as they stared at their computer screens. "Each day is a chance for employees across America to reacquaint themselves with the particulars of their jobs, whether they consist of grading papers or unloading bags of dog food off wooden pallets. What's more, many of them get compensated for it."
That the 10 millionth celebration occurred on a Monday, the traditional start of the work week, was not lost on many American workers during their morning commute.
"Ten millionth, huh?" said San Diego systems analyst Alex Bass, 34, who commutes an average of three hours a day. "Sounds about right."
"It's too bad I'm not awake enough to fully appreciate such a great milestone," said Jewel-Osco Drug cashier Alecia Wallace, a 29-year-old Milwaukee, WI mother of two.
Bring Yourself To Work Day events include special presentations, conference calls, and various deadlines. But there's time for leisure, too, including having short non-work-related conversations with coworkers, eating lunch, and going to the bathroom.
If the employer feels an attendee has adequately brought himself to work, the participant may be invited to join in a broader series of activities, where he can learn more about the importance of being a team player, what to do during meetings, and how to patiently await a cost-of-living pay increase.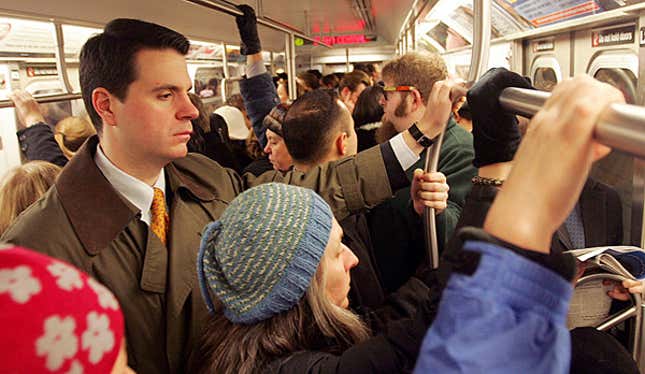 "I've been coming to Bring Yourself To Work Day since I was 16," said Chicago resident Nancy Kordich, 27. "Sometimes I get the urge to not bring myself to work, but I always relent, because if I don't go, I might end up not getting to participate in the celebration again for a long time."
Although some participants choose to mark the occasion at a single location for many years, others prefer to bring themselves to several different affiliated job sites successively over the course of one lifetime. Studies suggest that millions of especially enthusiastic Americans regularly enjoy bringing themselves to two or three jobs each day.
At one time, virtually all Americans were encouraged to participate, until legislation passed in 1938 limited the celebration to people over the age of 14.
While the vast majority of those taking part in Bring Yourself To Work Day are rewarded with a modest cash gift from the employer, some complain that there is little correlation between the dollar amounts given and the amount of time spent celebrating.
Still, many admit they have grown quite attached to the daily occasion.
"I don't know where I'd be if it weren't for this event," said drywall installer Donald Simmons, 42. "Probably at the beach, or sleeping in. Or at one of my son's T-ball games."
Added Simmons, "You know, for a big celebration, Bring Yourself To Work Day goes awfully slow."
Although archaeological evidence shows that Bring Yourself To Work Day has been an observed human event for at least 30,000 years, several historians theorize that the day could stretch back as far as the time of Homo erectus, when early humans first realized that antelope would not willingly allow themselves to be eaten.