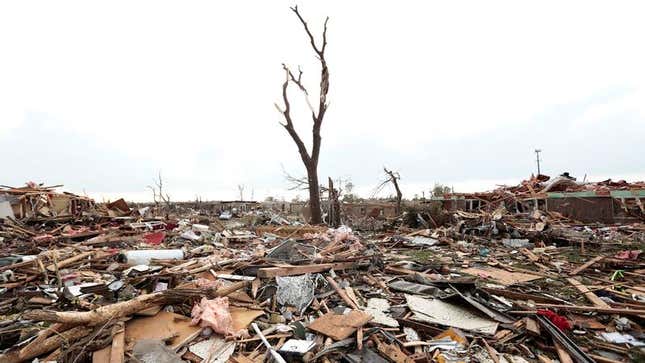 OKLAHOMA CITY—In the wake of yesterday's devastating tornado that has so far left 24 dead and hundreds injured in the Oklahoma City area, citizens around the country reportedly dredged up what little remained of the nation's rapidly diminishing grief reserves.
This Week's Most Viral News: September 22, 2023
According to sources nationwide, the American people, still reeling from a recent spate of horrific tragedies that have included mass shootings, domestic terrorism, and, now, a deadly cyclone, were forced to draw on the very last of their available supplies of grief, leaving them with virtually no remaining provisions of despair and helplessness for the foreseeable future.
"The American people had been running on scant grief supplies for a number of weeks, and unfortunately it seems as though yesterday's tragedy in Oklahoma City has just about tapped them out," said noted sociologist Dr. Martin Hanlon, who claimed that the nation's despair cache was running perilously low even before the arrival of Monday's tornado, which has so far displaced thousands of people, destroyed countless homes, and killed several schoolchildren. "We're simply at an unsustainable level of grief consumption right now, and unless supplies are somehow replenished in the coming days, I'm not sure how we'll be able to handle the next inevitable heartbreaking tragedy."
"We've also almost completely exhausted our anguish and heartache supplies, so I'm not sure if we'll be able to draw on those for much longer either," Hanlon continued.
As confirmed by nearly every American citizen, the unprecedented number of horrific tragedies in recent months has forced people nationwide to dip into their personal stockpiles of grief at what experts a calling a "staggering rate," with recent reports suggesting that Americans are now drawing from available grief supplies as often as once a week.
Moreover, thanks to recent despair-intensive tragedies in Boston, Waco, TX, and countless other domestic and foreign locales, many fear that the nation's 315 million citizens will be left completely griefless, numb, and emotionally exhausted by the time of the next horrific news event, which experts estimate could arrive as early as Friday.
Following Monday's tornado and the resulting carnage, many Americans wondered just how they would find the necessary misery and sorrow in time.
"Frankly, I've pretty much used up every last drop of sadness, empathy, and suffering I had," said Maryland resident Patrick Schafer, 42, noting that his well of emotional resources was already "just about dry" following the Sandy Hook shooting five months ago. "Look, I'm going to try to hang on and maybe replenish the tank so I'll be ready when the next absolutely fucking miserable thing happens, as it will very soon, but to be honest, I barely had enough grief for this one. And they haven't even found all the bodies yet."
Responding to these and other concerns of the American people, President Barack Obama assured the nation at a press conference today that more grief was already on its way.
"I have heard your worries regarding the nationwide grief shortage, and I want to assure you that when the time comes, we will all be ready to grieve again," said Obama, his eyes red from crying. "The fact is, grief and horror and the general feeling that we're all small and weak and it's never going to get any better are some of our nation's most valuable resources in times like these, and we've always managed to come up with them before when we needed them. Knowing the ingenuity and indomitable spirit of the American people, we'll come up with them again."
"It's what we do," Obama continued.