WASHINGTON—Saying they just need to relax after a "grueling" nine months of watching television, Americans across the nation are reportedly using the summer to recuperate before they take on the demanding responsibility of 2012's fall programming lineup.
U.S. residents said that because the upcoming television season will require long hours of tireless viewing that will keep them up until 11 p.m. most nights, they plan on taking the next three months off so they can start fresh in September.
"Between Game Of Thrones, a new season of Mad Men, and the final season of House, not to mention dozens of sitcoms and reality shows, this year's been a real grind," 38-year-old Omaha, NE resident William Bell said Sunday, adding that if he's going to do a good job watching television this fall, he needs to just zone out this summer. "I'll worry about how I'm going to watch the newest episode of Castle while simultaneously playing catch up with Hawaii Five-0 later. But right now, I'm going to kick back, relax, and think about nothing for a while."
"I'm definitely going to sleep," Bell added. "A lot."
Americans said that in order to fulfill their television-watching duties to the best of their abilities, they're going to need 12 weeks of vegging out on the couch and not concerning themselves with which show is on next or how many unwatched programs are building up on their DVRs. Moreover, the U.S. populace told reporters it's better in the long run to use the summer to take it easy and rest, because once the new season begins there can be no breaks or vacations.
G/O Media may get a commission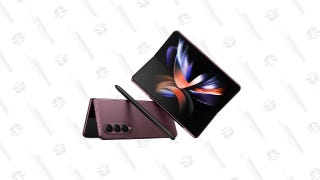 Save Up to $300
Galaxy Z Fold4
"I'm going to come back ready to put everything—absolutely everything—into watching television, but right now I need this," said Fairfax, VA resident Ben Nichols, who, after viewing the season finale of Modern Family, made plans to lay back in a comfortable chair for a few weeks, eat junk food, and "clear [his] head." "Actually, no. I deserve it."
According to a recent Gallup poll, 35 percent of Americans are just going to take it "super easy" so they can come back to television re-energized and ready to go; 20 percent said that if they don't take a break now, they'll more than likely burn out by the time midseason replacements begin airing; and 45 percent aren't planning to even look at a television for the next three months, unless a show they want to watch is on.
Amanda Wurster, a physical therapist in San Francisco, said she was looking forward to lounging around and spacing out after months of staying up late every night to finish watching television shows.
"It can get pretty tough, especially if you push yourself too hard," Wurster, 32, said of watching television. "You think it will only be four hours a day, but because you feel an obligation to go the extra mile by reading reviews of all the shows, watching behind-the-scenes clips about the making of certain episodes, and downloading special online-only webisodes, that four hours turns into eight, and eight turns into 12, and then just like that you're behind."
"It'll be great not to have to come home from work and immediately turn on the TV," Wurster added. "I was so busy during sweeps I barely saw my boyfriend."
While a majority of citizens told reporters they would take advantage of the break, others said that to remain sharp they plan to double-down on their television watching, either by viewing repeat episodes or watching DVDs of old programs such as M*A*S*H or Night Court.
"Yes, I'm exhausted, but if I take three months off, I'll just be rusty come September, and personally, I feel you need to be hitting on all cylinders right from the beginning," Dearborn, MI resident George Carol, 43, said. "If I don't maintain that intense, day-in-day-out schedule, I know I'll slip. And then there'll be a new episode of Fringe on and instead of really watching it, I'll just sort of sit in front of my TV and go through the motions."
Added Carol, "I'd really hate for season premieres to start and feel like I haven't given myself the best possible chance to be successful."