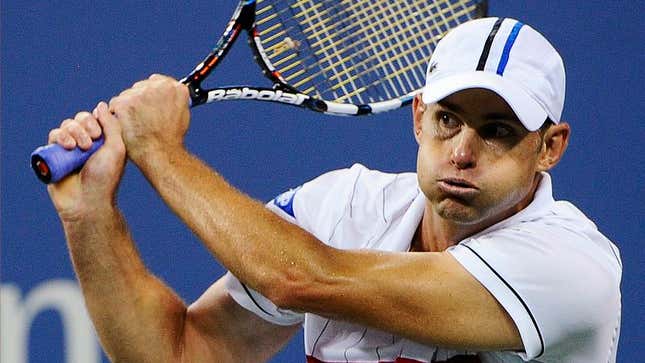 NEW YORK—After losing in the fourth round of the U.S. Open to Juan Martin del Potro, Andy Roddick officially retired from professional tennis Wednesday, walking away from the sport while at the peak of his competitors' careers.
Study Finds LSD Highly Effective At Ruining Nephew's Baptism
Roddick, who spoke with reporters at Flushing Meadows following the defeat, confirmed that he owed it to fans to step down at the pinnacle of his rivals' talent and physical ability, saying he felt honored and blessed to retire while an intense desire to win still burned deeply inside Roger Federer, Novak Djokovic, Rafael Nadal, and Andy Murray.
"To hang it up when those guys are still hitting on all cylinders and dominating opponents—I wouldn't want to go out any other way," said Roddick, who hasn't won a major since 2003. "They're winning on their own terms, and that's how I wanted to end my tennis career. With them prevailing on the court in a commanding fashion."
"I always said I didn't want to be around if David Ferrer wasn't playing at the highest level possible," added Roddick, who was reportedly pleased that he could leave tennis with his competitors' games intact.
Appearing overwhelmed with emotion, Roddick tearfully admitted that he was very grateful for the opportunity to end his career on such a high note for the world's greatest tennis players.
"Saying goodbye isn't easy, but I'm proud and thankful that I'm calling it quits at a time when Tomas Berdych, Juan Monaco, and Novak Djokovic are continuing to play at an elite level," said Roddick, who finished his career with just one Grand Slam victory. "That's the memory I want to leave behind."
"The best in the world being the best and me not being the best," Roddick continued.
Roddick has long expressed concerns about playing until the tennis superstars were past their prime, claiming he felt it was best to retire before their skills had eroded. The 30-year-old was reportedly satisfied that he could go out with Djokovic still able to run across the court without any problems and Nadal's devastating forehand showing no signs of decline.
"I never wanted to be around when Jo-Wilfried Tsonga, Janko Tipsarevic, and John Isner were ravaged by injuries and couldn't keep up with the demands of professional tennis," Roddick said. "I hoped to pack it in before they started playing mediocre and a guy like Andy Roddick could beat them."
"I don't want to see those guys get beat by someone like me," Roddick added.