DULUTH, MN—Milton Jarry, an antique dealer with 29 years of experience buying and selling rare collectibles and furnishings, announced Monday that he is sick of estimating the value of Smurf collections and other "piles of pop-culture detritus."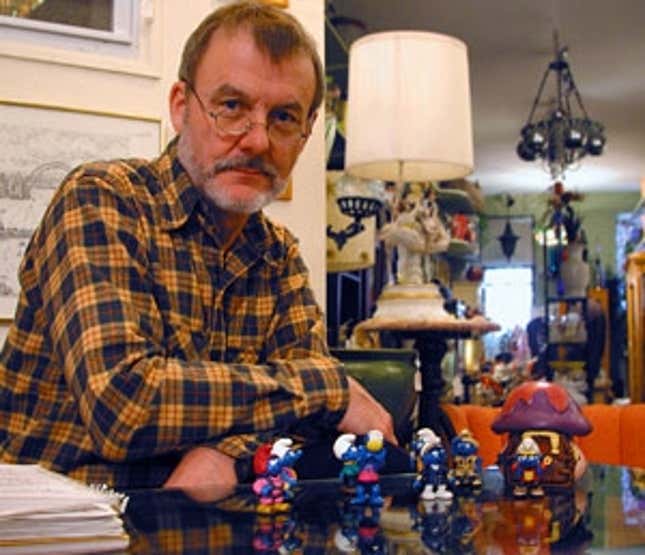 Demand Grows For Stricter Transit Regulations After Derailing Train Hits Airplane At 30,000 Feet
"If one more person brings in a 'rare' figurine of Smurfette in a jogging suit, I'm going to set it on fire," said Jarry, owner of The Finer Things, a Cortland Avenue antique shop. "That goes double for Brainy Smurf ceramic piggy banks."
Created by Dutch cartoonist Peyo in the early 1960s, the Smurfs made their U.S. debut on NBC in 1981. The animated series chronicled the adventures of a band of tiny blue dwarves that lived in the mushroom cottages of Smurf Village with their 542-year-old leader Papa Smurf, Jarry begrudgingly explained.
The hit series spawned a host of spin-off merchandise, including Smurf toys, jewelry, curtains, and kitchenware—all of which has made its way into Jarry's shop at some point.
"A 17-year-old cereal bowl featuring a bunch of silly blue creatures does not constitute an antique," said Jarry, whose areas of expertise include antique European and Russian chandeliers, wall fixtures, and classic reproductions of 18th-century candelabras. "Neither, for that matter, does a 1986 ALF pillowcase."
Though he considers himself an expert on many types of antiques, Jarry's true passion is the work of the New York lighting and metalwork firm E.F. Caldwell & Co.
"Two years ago, during a trip to Washington D.C., I went to the Smithsonian's National Museum of Design and spent a full day just with their collection of E.F. Caldwell lighting fixtures," Jarry said. "I also was lucky enough to see the Strater collection of Swiss enameled glass, 19th-century French block-printed wallpaper, 20th-century Soviet propaganda porcelains…"
Jarry's reverie was then interrupted by a customer wishing to be directed to the McDonaldland character glasses.
Jarry said he dreams of one day running a store that deals exclusively in E.F. Caldwell sconces, table lamps, and chandeliers, along with those of other celebrated firms like Sterling Bronze Co., Bradley & Hubbard, and Murano. Unfortunately, the antique market in Duluth is not large enough to support such specialization. To ensure his store's profitability, Jarry has been forced to offer more in-demand collectibles, such as Star Wars action figures, Schlitz beer signs from the '70s, and Welcome Back, Kotter TV tray tables.
As an added incentive for customers to come to his store, Jarry offers free appraisals.
"This morning alone, I appraised a Dukes Of Hazzard lunch box, a UM-Duluth edition Monopoly game from 1996, some Jaws 2 trading cards, and a smiley-face pillow that the owner found in her basement and thought looked 'pretty old,'" Jarry said. "Why do I put up with this?"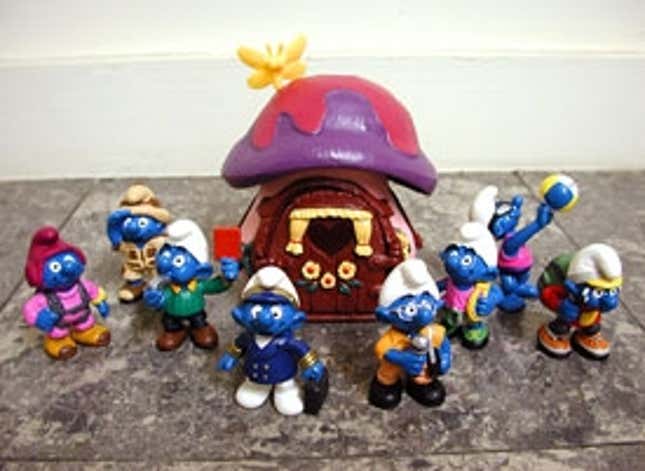 Ever since the debut of the PBS series Antiques Roadshow, Jarry has seen a rise in the number of people hoping to make a fortune selling antiques. A recent customer was disappointed with the $3 valuation he gave a 1999 reproduction of a 1976 Strawberry Shortcake lunchbox, a price Jarry said was "on the generous side."
Renee Knight, 34, owner of the lunchbox, questioned Jarry's appraisal.
"I saw a metal lunch box on eBay go for $60, and all it had on it was a picture of a horse," Knight said. "Frankly, I don't think he knows what he's talking about. Or maybe he was lying so I'd sell it to him for next to nothing."
Knight said she frequently browses The Finer Things for "cute Christmas and Halloween decorations" or items for her sister's extensive Garfield collection.
"The prices here are a lot higher than at Goodwill, but sometimes I see something I just have to get," Knight said. "I'll warn you, though: Don't even go to the back of the store. I once saw a cute little lamp and was going to buy it until I realized it was $1,200, not $12."
The lamp, a numbered Tiffany accent lamp with gold Favrile shade, remains unsold.
"Most of the people who come in here expect I'll see the junk they scraped out of their basement toy boxes and start salivating," Jarry said. "They're disappointed if I don't say, 'I can't believe my luck in getting to hold in my very own hands an actual Skipper doll from 1978!'"
Jarry, who holds masters degrees in history and art, said the antique business isn't what it was when he started. Though he occasionally speaks with respected peers when attending a convention or trade show, his everyday interactions as an independent dealer in a mid-sized city are less-than thrilling.
"I'm in here six days a week, and all anyone asks me is if I know the name of Smurf arch-nemesis Gargamel's little black cat," Jarry said. "Why doesn't anyone ask me about 17th- and 18th-century Delftware metalwork? Or pre-Federal American-period furniture? Or even a simple question about Depression glass or old maps or decorative brass door knobs? By the way, it's Azrael."