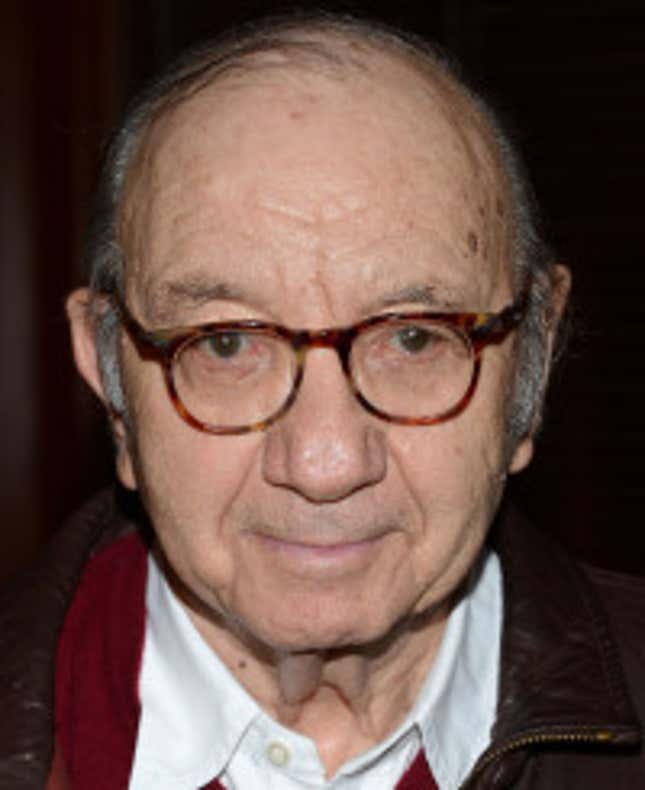 So I got to thinking the other day. I was looking through the countless Tony awards, Emmy awards, honorary degrees, and Pulitzer Prizes I've received over my celebrated 52-year career and it hit me: You know what, it's been quite a while since I, Neil Simon, lit up the Great White Way with one of my bittersweet theatrical confections. So how 'bout it, assholes—any of you sons of bitches feel like a new show from yours fucking truly?
Supreme Court: 'We Wear Gold Crowns Now'
That's right, I'm talking about a brand-new shit-hot piece of certified Neil Simon gold. Any of you cocksuckers up for that?
Because, Christ, I'm more than happy to bang home another beloved Broadway classic. Maybe a wistful ensemble play where a guy calls his mom "Ma" and his dad "Pop?" Or how about one where a couple of kids in knee socks listen to a Brooklyn Dodgers game on an old console radio? No, no, wait, maybe a wartime dramedy with snappy one-liners disguising the true, unspoken pain burdening America's Greatest Generation? Hey, look, you name it and I'll get that shit up on a marquee faster than you can say "odds-on Tony favorite."
C'mon, you're telling me you're going to turn down a goddamned heartwarming two-act about a white, Jewish, middle-class, Depression-era family struggling to make ends meet through laughter and tears? Give me a fucking break you're going to turn down that shit. You want some of that? Because I can pump out that stage play and the adapted screenplay in my goddamned sleep.
Okay, you fucks, let's take care of the basics: New York, done. Traditional values, done. How about a father walks out and the kid has to learn how to be the man of the house, and then at the end the father comes back and they have to negotiate that dynamic? Or, better yet, I'll set it in the aftermath of the Second World War and the family also has to deal with the emotional fallout from Cousin Maury's service on the front. Maybe the dad had to flee the Pogroms. Works in the garment business. Say he's got indigestion. Call him Barney. And the kid wants to be a writer. That took me five seconds to come up with and I can tell you stupid fuckers are already drooling at the thought of it.
And here's the thing, dumbfucks: I can serve it up any number of ways. It could take place over dinner. It could take place over three Passovers. It could even be set during the golden age of television. Makes no difference to me, assholes! Hell, maybe it's a writers' room for a 1960s late night show called The Ronnie Goodman Hour or some bullshit. I could seriously give a rat's ass.
And what are we gonna do for the year: '35, '43? How 'bout I split the difference and set the thing in fucking '39 and have them struggling with the anguish of adolescence, sibling rivalry, and thwarted ambition, with borscht-belt humor as a coping mechanism? Throw in a storyline about an unlikely pair—one guy's a slob, the other guy's neat. One sister's got her shit together, the other one's kinda nuts. Boom, finished.
That sound okay to you, shitheads? Jesus, I can practically hear the critics lining up right now to suck my dick and call me a living fucking treasure.
Let me make a few phone calls. You want Matthew Broderick in it? Easy fucking peasy, Broderick'll be attached. Richard Dreyfuss or Jonathan Silverman will co-star, with Mercedes Ruehl or Laurie Metcalf or whoever the fuck as the mom. I could probably get Mel Brooks on board too. Why the hell not? I've got all those fuckers in my back pocket. They'll do it. Christ, for Neil "Kennedy Center Honoree" Simon they'll do fucking backflips if I ask 'em.
Put it up at the Lyceum, or at the Palace. Or maybe we get a 36-week run at the Neil Fucking Simon Theatre and I bag another couple Tony noms and a Drama Desk Award. Holy hell, don't you realize how easy this is for me? What a joke this is?
No matter what, it'll be money in the bank. Soon as that thing gets the ol' New Yorker tug job, the cash'll start rolling in. I'll rake in five mil easy, pick me up a nice 10-bed mansion in Bel Air and a new typewriter that I can whip my dick against and crank out another box-office hit whenever the fuck I want.
So what do ya say? You dumbshits ready for a new jewel of modern theater? Ah, screw it. I don't even give a flying fuck either way.