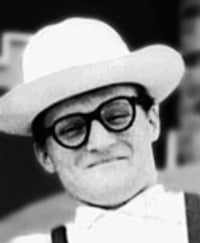 So, my despised arch-enemy and rival in the news-paper trade William Randolph Hearst thinks he can single-handedly stop The Onion dead in its tracks by putting that vulgar "Yellow-Kid" comical drawing panel in his New-York Journal?
Yes, I've heard all of your complaints: "Can't The Onion have its own humorous picture joke stories too?" "We demand funny hand-drawn sequential exploits of New-York slum-urchins and mischievous German children!" The answer is no! A thousand times no! The Onion leads, it does not follow! I have steadfastly refused to drag the hallowed American journalism tradition through the gutter to pander to your base and prurient tastes!
Save for this, a one-time-only exception. I charged The Onion's staff illustrator and chief engraver to fashion a response to the Yellow-Kid, entitled "The Onion-Kid," which is visible below. They had the temerity to suggest it be garishly colored, but I blasted the notion out of the water. Color belongs on a prostitute's rouge-stained face, not in a news-gathering forum!
And this, dear readers, marks the first and final time I shall ever appease the ignorant masses with low-brow amusement. This is not Punch magazine! After all, if I were to fill The Onion with trivial comedic diversions, where would I run the robber barons' press-releases, or the advertisements?
Oh, and while I am on the subject, I also refuse to print any of those puzzles made up of bisecting blank boxes, in which the reader must guess what words fit in the boxes based upon a number of arcane clues. If you want fun and games, go to Coney Island!
T. Herman Zweibel, the great grandson of Onion founder Friedrich Siegfried Zweibel, was born in 1868, became editor of The Onion at age 20, and persisted in various editorial posts until his launching into space in 2001. Zweibel's name became synonymous with American business success in the 20th century. Many consider him the "Father Of American Journalism," also the title of his well-known 1943 biography, written by Norman Rombauer.