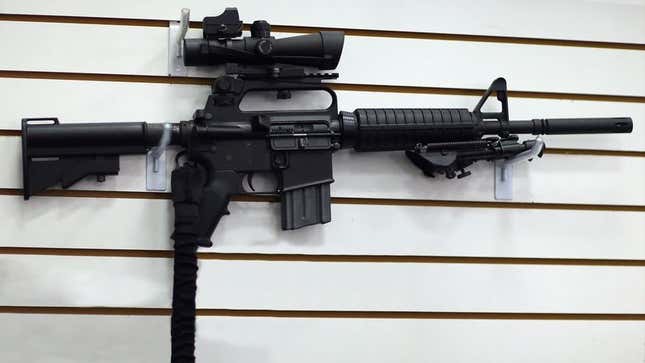 RICHMOND, VA—As the Obama Administration signaled its determination to pass through extensive gun control reforms, a local AR-15 assault rifle told reporters Wednesday that it is beginning to fear it might never actually get the chance to kill an innocent human being in the course of its lifetime.
This Week's Most Viral News: September 22, 2023
The Colt-manufactured assault rifle confirmed that, given the administration's intention to advance gun control measures designed to curb the nation's ready access to deadly firearms such as itself, it is becoming increasingly unlikely that the weapon will ever have the opportunity to act on its long-held desire to brutally execute even a single innocent person.
"Ever since I came off the assembly line, I've dreamed of being used to annihilate dozens of frantic people in a deadly rampage; it's what I was made to do," the semiautomatic rifle said from its display stand at Richmond-area gun retailer Pete's Munitions. "But if the government clamps down on sales of guns like me, then I can pretty much kiss that dream goodbye. And, I have to say, the idea of that happening is massively disappointing for me."
"Just the idea that I might actually never get the chance to let loose a torrent of bullets on a roomful of bystanders is inconceivable to me," the rifle added. "It's awful. I mean, what else am I supposed to do with my life?"
The AR-15 further lamented that gun control advocates' plan to impose strict background checks on gun sales and restrict firearms access to mentally ill individuals would likely prevent the 5.56 mm, magazine-fed assault rifle from falling into the hands of the type of unhinged individual who would be likely to put the rifle to "[its] intended use" of butchering helpless civilians.
"Believe me, if these new laws go into effect, there's almost zero chance someone like that ever gets their hands on me," the visibly emotional military-grade armament told reporters. "At best, I'll probably end up in some responsible gun owner's basement, spending the rest of my life plugging paper targets at a shooting range until I rust. Not exactly what you'd call a bright future for a precision-engineered killing machine like me."
"Imagine if your life's dream was suddenly just taken away from you, just like that," the gun added. "How would you feel?"
Though a series of legally obtained firearms have left a staggering body count in recent shootings at Newtown, Aurora, and many other massacre sites, the lightweight assault rifle claimed that its own ambitions are relatively modest.
"Honestly, I don't even need to mow down an entire schoolyard of shrieking children, nothing like that," the gun explained. "I mean, that would be fantastic, obviously, but at this point I'll take what I can get. I would be thrilled to take out even one terrified mall shopper. That's it. Just one. Or two, if possible. Is that really so much to ask?"
At press time, the AR-15 was praying that the man in the camo pants currently inspecting him from the other end of the store counter had a history of mental illness.