AL JIZAH, EGYPT—A team of British and Egyptian archaeologists made a stunning discovery Monday, unearthing several intact specimens of "skeleton people"—skinless, organless humans who populated the Nile delta region an estimated 6,000 years ago.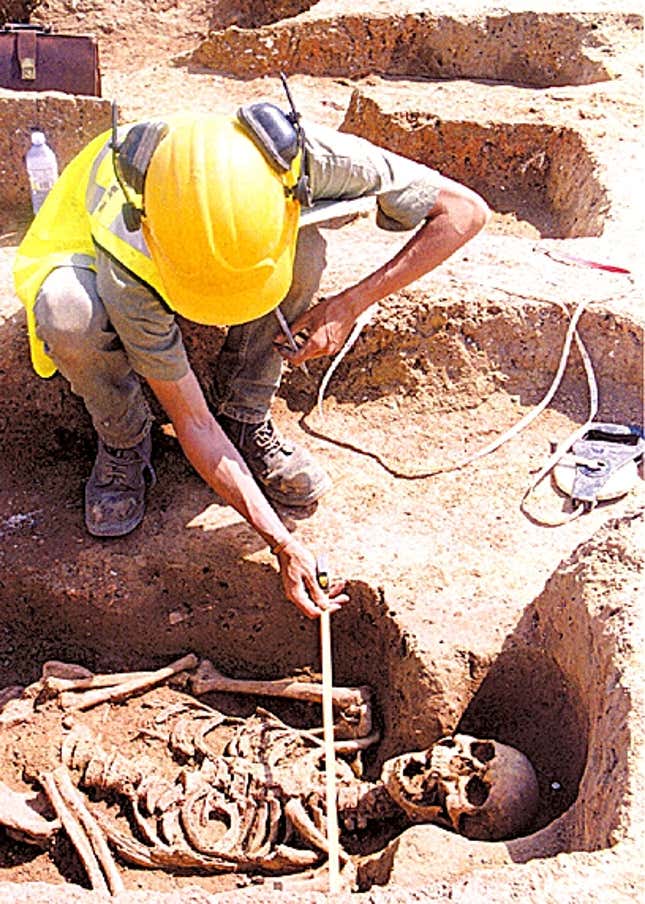 This Week's Most Viral News: September 22, 2023
"This is an incredible find," said Dr. Christian Hutchins, Oxford University archaeologist and head of the dig team. "Imagine: At one time, this entire area was filled with spooky, bony, walking skeletons."
"The implications are staggering," Hutchins continued. "We now know that the skeletons we see in horror films and on Halloween are not mere products of the imagination, but actually lived on Earth."
Standing at the excavation site, a 20-by-20-foot square pit along the Nile River, Hutchins noted key elements of the find. "The skeletons lived in this mud-brick structure, which, based on what we know of these people, was probably haunted," he said. "Although we found crude cooking utensils in the area, as well as evidence of crafts like pottery and weaving, we are inclined to believe that the skeletons' chief activity was jumping out at nearby humans and scaring them. And though we know little of their language and means of communication, it is likely that they said 'boogedy-boogedy' a lot."
Approximately 200 yards west of the excavation site, the archaeologists also found evidence of farming.
"What's puzzling about this," Cambridge University archaeologist Sir Ian Edmund-White said, "is that skeletons would not benefit from harvested crops, as any food taken orally would immediately fall through the hole behind the jaw and down through the rib cage, eventually hitting the ground. Our best guess is that they scared away a group of human farmers, then remained behind to haunt the dwelling. Or perhaps they bartered goods in a nearby city to acquire skeleton accessories, such as chains, coffins and tattered, dirty clothing."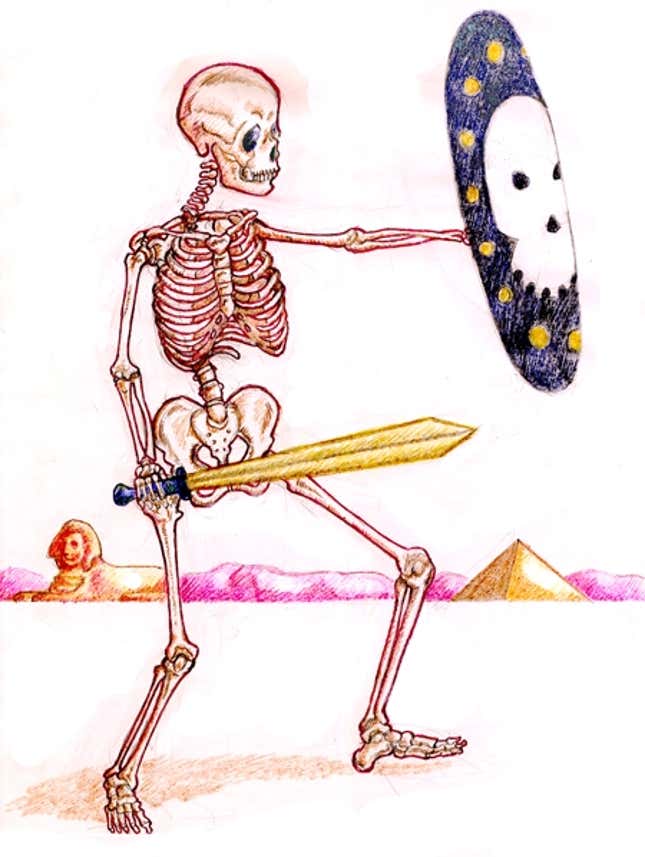 Continued Edmund-White: "The hole in that theory, however, is that a 1997 excavation of this area which yielded extensive records of local clans and merchants made no mention of even one animated mass of bones coming to town for the purpose of trade. But we are taking great pains to recover as much of the site as possible, while also being extremely careful not to fall victim to some kind of spooky skeleton curse."
As for what led to the extinction of the skeletons, Edmund-White offered a theory.
"Perhaps an Egyptian priest or king broke the curse of the skeletons, either by defeating the head skeleton in combat or by discovering the magic words needed to send their spirits back to Hell," Edmund-White said. "In any case, there is strong evidence that the Power of Greyskull played a significant role in the defeat of the skeleton people."
According to Hutchins, the skeletons bear numerous similarities to humans, leading him to suspect that there may be an evolutionary link between the two species.
"Like humans, these creatures walked upright on two legs and possessed highly developed opposable thumbs," Edmund-White said. "These and many other similarities lend credence to the theory that hundreds of thousands of years ago, human development passed through a skeletal stage. These skeletons may, in fact, be ancestors of us all."
"Any of us could be part skeleton," he added.
Other experts disagreed.
"The evidence of an evolutionary link between humans and skeletons is sparse at best," said Dr. Terrance Schneider of the University of Chicago. "Furthermore, it is downright unscientific to theorize that skeleton life originated in Egypt merely because mummies, another species of monster, are indigenous to the area. Spooky creatures are found all over the world, from the vampires of Transylvania to the headless horsemen of Sleepy Hollow."