KANSAS CITY, MO—Although those close to Buster characterize him as a good boy, the area collie-rottweiler mix reported Monday that he will never live up to the standard set by the show-quality golden retriever on the Purina Dog Chow bag.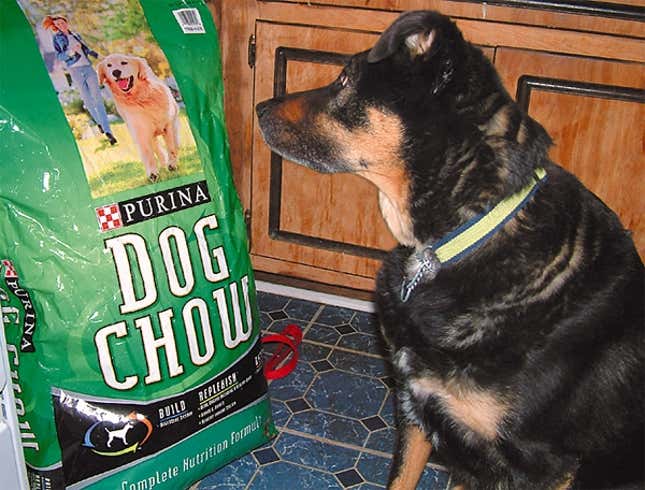 This Week's Most Viral News: September 29, 2023
"I try as hard as I can," said Buster, lying on his blanket in the entryway of the Hopkins-family home. "I welcome [Buster's owner] Gerald [Hopkins] home every night with lots and lots of barks and leaps. And when he sits down in his chair to read, I lie quietly at his feet. Still, when I see that dog on the Dog Chow bag, I feel like I'm nothing."
Without lifting his head from his paws, Buster turned his eyes to the shelf above the dryer, where the trim and muscular golden retriever on the 40-pound bag of Purina Dog Chow bounded across a green lawn.
According to Buster, the dog is almost certainly American Kennel Club-certified.
"Look at that coat," Buster said. "Thick and soft… And his color! Varying shades of rich and lustrous gold. As for me, I'm sort of a rough, dull black, and I know it. I've known it since I figured out that the strange, scentless dog in the mirror is me. Ever since then…well, I try my best not to whine, but it's hard to live with the fact that I will never measure up."
"It didn't take two vets to piece together what breed that dog was," Buster added.
Buster admitted that not one member of the Hopkins family has ever compared him unfavorably to the dog on the food bag.
"But I know what they must be thinking," Buster said, baring his teeth to reveal two misaligned incisors. "Just look at this messed-up bite. The kids hug me when they feed me, but over their shoulders, I can see Golden Boy over there, staring down at me from the Purina bag."
Buster said his worst days are those when a family member forgets to return the Purina bag back to the shelf after feeding him.
"Oh, I go positively crazy," Buster said, pausing to gnaw a spot on his left hindquarter. "He's right there, staring me down, eye to eye, all day long. The only way I can get away from his strong nose and bright eyes is to put my own head in the bag. And, you know how it is, once you smell the kibble, you can't help but eat all of it… And then there's no question about it: I'm the worse dog."
Added Buster: "No, the dog on that bag would never eat himself sick and then make a mess on the floor."
Buster noted the gracefulness of the golden retriever's movements.
"Aw Jeez, look at him go," Buster said. "I can't even shamble up the stairs without tripping. That dog looks so confident and intelligent. Meanwhile, I still fall for the old fake stick toss half the time."
A fit, attractive woman in her 30s accompanies the golden retriever on the Dog Chow bag. According to Buster, the tall, upright-walking woman looks uncannily like his owner's wife.
"I look at the bag, and I think, 'That looks like Susan, all right, but that dog sure doesn't look like me,'" said Buster, a hint of a growl in his throat. "I have to wonder if Susan sees the bag and thinks the same thing. When we're out on walks, is she embarrassed to be seen with me?"
"I love my human family with all my heart," Buster added. "They deserve the dog from that bag."
Elaine Thannum, a noted animal behaviorist and author of The Breeding Myth, said that idealized media images contribute to self-esteem problems among pets.
"Unfortunately, the inadequacy Buster is feeling is common among normal, everyday dogs," Thannum said. "No matter how much their families love them, regular dogs can't help but be affected by the unrealistic images shoved down their throats by dog-food companies like Purina, Cycle, and Iams. Dogs like Buster need to understand that if they were to meet the supposedly perfect animals they see on the food bag, they'd see and smell dogs with a lot of the same problems they have."
Los Angeles-based purebred Troubadour's Golden Dawn appears on millions of Purina Dog Chow bags, as well as a Clarinex print ad and packages of Nylabone chew toys.
"Let me tell you, it is not easy being me," Troubadour's Golden Dawn said. "Do you know what it's like to have judges and photographers poking and prodding you all day long? What I wouldn't give to have a fun, playful family. I'd roll over and play dead to be able to eat Purina-brand Dog Chow, instead of that all-natural, vitamin-flavored concoction I have to choke down."
"And believe me," the 3-year-old golden retriever added, "you don't want to get me started about what it feels like to have to compete for jobs with that nippy little blond bitch on the Puppy Chow bag."