ST. PAUL, MN—Single mother of three Janis Cullen is so pleased with her 1990 Pontiac 6000LE wagon that, after her family moved out of their home in late 2003, they took up residence in the car.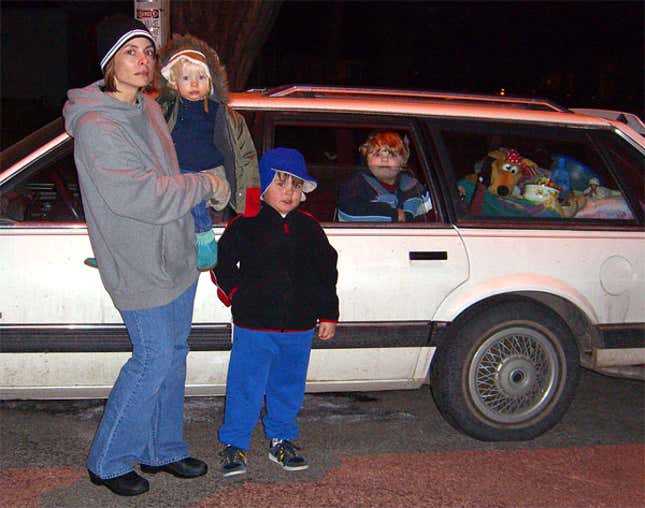 This Week's Most Viral News: September 22, 2023
"We don't have anywhere to go," said Cullen, running her fingers over her wagon's puce interior. "We stayed with friends and family until they didn't want us around anymore. Guess I can't say I blame them."
The roomy interior of the midsize five-door wagon easily seats six, and since October, when Cullen's husband of more than 12 years disappeared, the family has had plenty of cabin space. Peter, 7, and Sam, 6, generally share the backseat, leaving Janis and 15-month-old Tiffany the reclining bucket seats with adjustable headrests up front.
"I was worried when Joe disappeared," Cullen said. "I figured he was dead. I cried for weeks. Then I found out he's in Bemidji. He's got some girlfriend, I guess, half his age, who gives him money."
"When I can afford to gas up this thing all the way, we'll drive up there," Cullen added.
While she likes her Pontiac's smooth handling, Cullen is absolutely gaga for the neatly designed driver-side pop-out cup holder, which is a perfect place to store her Mace. She also loves the double sun visors, which help shield the family from the glare of sunrise and make a "pretty workable" place to hang clothes to dry.
Ironically, given the wagon's smooth handling, power steering, and antilock brakes, Cullen spends more time in "park" than she does in "drive."
"Lately we've been parking close to the steel mill," Cullen said. "The boys like looking at the fire, and I feel safer in a lot that's got some security. We used to park behind the Old Thyme Grille until a hooker threatened Sam with a syringe full of bleach. She said she was going to squeeze it in his eyes. "
Cullen added: "She should go to hell for talking to a kid like that."
The winters get cold in St. Paul, but the Cullen family is always nice and toasty in their wagon's molded, upholstered cab. Two adjustable air and heating vents in the rear-center console keep the kids toasty in back, allowing Cullen and her guests to put up the privacy sheet without hoarding all the heat up front. And according to Peter, the cigarette lighter "works as a hand warmer, once you let it cool." The Pontiac 6000LE also features power windows in those two that still work.
"We run the heat for an hour and then we leave the doors closed," Peter said. "After lights-out, you're not allowed to open the door no matter what, unless you want a spanking."
"Uncle Jay spanks hardest," added Sam, referring to Jay Promo, a friend of Cullen's. "He spanks too hard. He spanked me once and I couldn't sit on my hiney for two days, until he belted me down."
The center-front armrest with storage gives the clan plenty of room for necessities, allowing them to use their ample rear cargo-storage space for irreplaceable heirlooms, Tiffany, and a single change of clothes each.
"We got TP right here," said Sam, opening the armrest and scooping up a handful of McDonald's napkins and an empty 20-ounce Gatorade bottle. "The bottle's for emergencies."
The hanger hooks, glove compartment, dual door bins, and rear-seat book pockets are also handy catchalls for items that the Cullen family members were able to salvage from their former home. "I put my Hot Wheels car in the ashtray," Peter said. "The little window melted when Uncle Jay put out his cigarette on it. But I fixed that, though. See? I put a plastic bag in the window, just like in our car."
Cullen gave the bucket seats high marks for resilience.
"I delivered Tiffany right there," Cullen said. "You can see the stains on the floor mat and glove compartment."
Whether the product of compassionate, socially conscious Pontiac auto designers, or simple serendipity, few cars surpass the 6000LE for ultra-convenient amenities and options. Detroit, take note: More vehicles could stand to follow the 1990 Pontiac's lead.