EDINA, MN—Local resident Marsh Lufler, 51, urged family members to re-open a long-discontinued investigation into the disappearance of a lawn rake Monday. The rake, a Lawn-Grum brand spring-braced sweep rake with steel tines and a hardwood handle, has been missing from the Lufler home since 1998.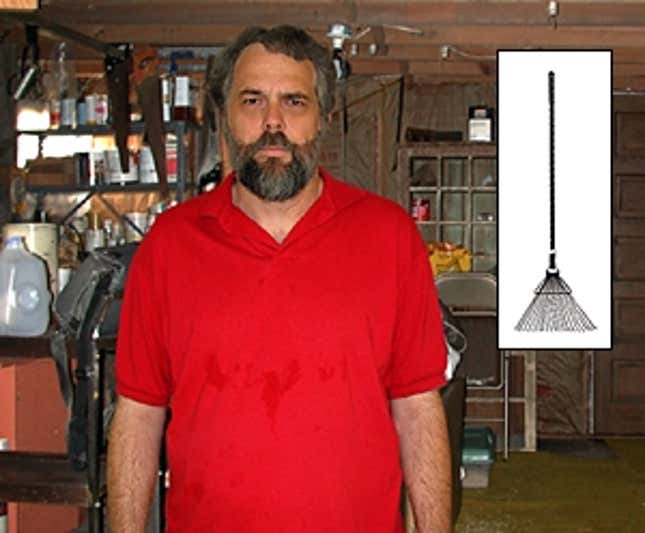 This Week's Most Viral News: September 29, 2023
"Although it has been six years since anyone in this family has seen that rake, I've never given up hope that someday I might find it," Lufler said. "I believe that the rake is still in our neighborhood, probably within a quarter-mile of our home."
Added Lufler: "It's a rake, dammit. It couldn't just sprout legs and walk away."
Lufler's rake was first reported missing in October 1998. A massive, four-day search of the Lufler property and intensive questioning of friends and neighbors yielded no leads. Although most of the Lufler clan long ago abandoned hope of the rake's recovery, Lufler has refused to accept the loss.
"Why would a rake just disappear?" Lufler said. "A sock, sure. But a rake is large and conspicuous, and this one hadn't been used since before the first snowfall in December of '97. How could it just vanish?"
The reopening of the rake case was prompted in part by the recent solving of another Lufler-household mystery. The good-serving-dish case, closed in late 2002 after months of fruitless investigation, was all but forgotten until last month, when friend and neighbor Mary Cobb returned a porcelain tray, which she'd found while cleaning out her cupboards.
"I should definitely question everyone again," Lufler said. "All the principal suspects are still alive, and almost all of them still live in the neighborhood. Maybe enough time has passed that it will be easier for someone to admit something they didn't want to say before."
Added Lufler: "Anything could have happened in that gap between the first snow and the discovery that the rake was missing. Maybe the rake was lent out without my knowledge, or maybe someone just 'helped himself' to it. You know, I'd like to quiz that Norquist kid down the block. Well, he's not even a kid anymore, but I heard he used to break into people's houses and watch television. I wouldn't put rake-snatching past him."
Lufler also spoke of a recurring psychic dream he had.
"I dreamed of the tail end of a black car—a car trunk," Lufler said. "When I put my hand on the trunk, it turned into a heap of neatly piled leaves. Then I woke up. But I don't own a black car, and when I searched my trunk for a rake, I didn't find one. I don't hold much stock in the paranormal, but what does it hurt to pursue all avenues?"
Lufler said that most of his neighbors prefer leaf-blowers to rakes. Considering this, he said he recently spotted what could be an important clue: a neatly raked pile of grass clippings in an unknown neighbor's yard, two blocks from his home.
"This was not the work of a leaf-blower, I assure you," Lufler said, producing grainy photographs of a mass of grass shot from several different angles. "Clearly, the grass was raked with a fan-style rake. Look at the angle at which the clippings are piled. Observe the 'combed' appearance of the surrounding lawn."
The most damning clue in the photos is a large tool with a wooden handle, leaning against the garage, its bottom obscured by a black trash bag. Lufler said he did not notice the implement until after he had gotten the developed photos back from the Rite Aid. When he returned to the scene, the wooden-handled tool was gone.
"I cannot say with complete certainty that the lawn tool in the picture was a sweep rake," Lufler said. "It could have been a hoe, a shovel, or a broom. But I am convinced that a rake was used to gather those grass clippings."
Lufler said improvements in technology since 1998 may give him an edge in his search that he previously lacked.
"In 2002, I purchased a large Maglite," Lufler said. "It casts a far longer and stronger beam than my old lantern flashlight, and could aid us in a search of dense underbrush."
Wanting to question the occupants of the home, Lufler attempted to persuade his wife to reopen the rake case. However, a resolute Evie Lufler demanded that the matter be finally put to rest.
"I told Marsh he's gotta move on," Evie said. "It took him nearly a year to give up looking for that missing rake and buy a new one. Now that he has, it's time he forgot about the old rake. Why would anyone need two rakes?"
In spite of his family's resistance, Lufler continues to press for the reopening of the case.
"It's been six years since the rake went missing," Lufler said. "That rake was a real beauty. I've never owned a rake that worked so well. Even if I can't recover the rake, I want to go to my grave knowing that, in my search for it, I left no leaf unturned."