SOUTHFIELD, MI—In a move Coca-Cola marketing executives called "a clear sign of our branding success," highway worker Chuck Burdon, 37, purchased a two-liter Diet Coke during his lunch break Tuesday, buying not so much a soft drink as an image.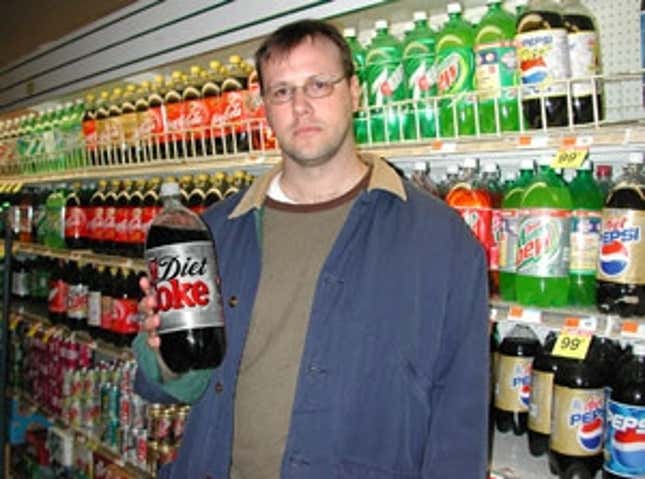 Edgelords Explain Why They Love Elon Musk
"Let me tell you, I was mighty thirsty after all that paving," a refreshed Burdon told reporters. "Yet on a subconscious, psychological level, I wanted more than mere rehydration or refreshment. I craved an image. I craved being imbued with the sort of fun, carefree spirit seen in Diet Coke commercials. I also wished to feel like I was part of a larger community of discriminating, likeminded consumers who have the good taste to choose the world's most-consumed diet cola and not some inferior, lower-priced off-brand."
Standing in the soda aisle of a supermarket near the construction site, Burdon was confronted with a vast array of soft-drink choices, each projecting its own distinct image for consumers to identify with and project onto themselves through the acts of purchase and consumption. According to Burdon, key to his decision to choose Diet Coke was the memory of a 1994 television spot featuring model-actor Lucky Vanous as a construction worker who excites young, single women by shirtlessly consuming a can of the soft drink.
"Back when that ad was on TV, me and the other construction workers made a lot of jokes about it," Burdon said. "I think my purchase was partially motivated by a desire to recapture the relative whimsy of those days before Allied Construction owner Bud Wanamaker died of a heart attack and the new owners mismanaged it into the ground. That, as well as the more basic desire to liken myself to the sexy Vanous via our mutual enjoyment of Diet Coke."
Burdon freely admitted that image was more of a motivating factor than the needs of his parched body.
"To be honest, selecting a caffeinated drink ran counter to my physical needs at the time, given the diuretic effects of caffeine," Burdon said. "If my only goal were rehydration, I would have done better with Gatorade or Sprite or, at the very least, Caffeine-Free Diet Coke. Or, I suppose, tap water."
Despite the negative side effects of caffeine, particularly for a manual laborer, Burdon said he is averse to consuming caffeine-free soft drinks.
"To appear on the construction site drinking a beverage that is both calorie- and caffeine-free would be an emasculating blow to my carefully cultivated image as a burly, rough-and-tumble working-class type," Burdon said. "The sight of me consuming such a soft drink would diminish the respect I enjoy from my professional peer group by casting a light of skepticism upon my masculinity and even my sexuality."
Moments before making his purchasing decision, Burdon said he was almost swayed by the memory of a Diet Coke With Lemon billboard featuring an attractive woman puckering her lips. In the end, however, he rejected the soda for similar gender-identity reasons.
"I must admit that my desire to associate myself with such a woman was a powerful temptation," Burdon said. "Nevertheless, the perception of diet soda, an already somewhat feminine product, infused with lemon flavor signified on the packaging by the girlish color yellow, was a bit too rife with feminine overtones for my purposes. I felt that I would be more likely to attract such a woman by reinforcing my masculinity with a lemonless soft drink than by drinking the same female-oriented beverage as her."
Though Burdon spotted a bottle of Pepsi Blue, a drink he greatly enjoyed upon first tasting it in a Safeway parking lot in August, he ruled out the beverage as a possibility for at-work consumption.
"Drinking an adolescent-targeted, convention-flouting, candy-colored fantasia beverage like Pepsi Blue would paint me as an aging and pathetic man desperate to appear youthful and virile," Burdon said. "From its flavor blend to the cheekily angular lettering on the label, Pepsi Blue projects an image far too cutting-edge and impudently rebellious to convincingly mesh with the reality of my 37-year-old self. I purchase soft drinks to identify with a somewhat realistic lifestyle archetype, not retreat into an outright delusional fantasy."