ERIE, PA—Area resident Don Turnbee was "completely bewildered" by standard buffet protocol at the East Frontage Road Ponderosa Steakhouse, sources close to the 37-year-old eater reported Tuesday.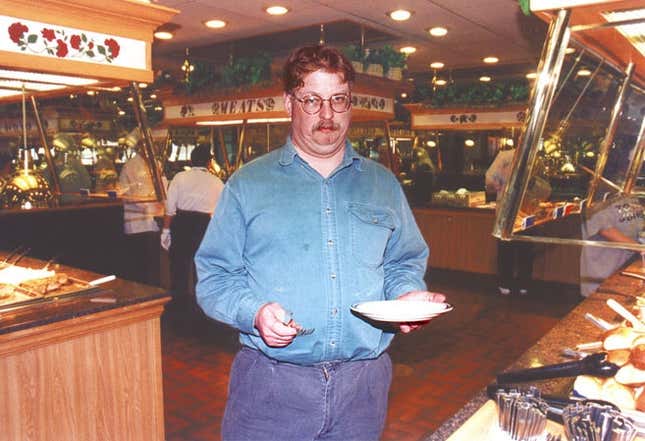 Americans Describe What It's Like Surviving A Mass Shooting
Turnbee, who ordinarily relies on Burger King, McDonald's and other fast-food establishments for his nutritional-intake needs, was confused by procedures regarding Ponderosa's "$6.99 Grand Dinner Buffet." Among his uncertainties: when to pay for the meal, which food items he had unlimited access to, whether soft-drink refills were free, and whether to move around the various serving stations in a clockwise or counterclockwise direction.
"There was a lot of different stuff you had to know," Turnbee said. "I wasn't sure if I was doing it right."
Ponderosa patrons reported seeing Turnbee wander aimlessly for 20 to 30 minutes through the restaurant's all-you-can-eat buffet area, which features more than 75 choices of hot and cold appetizers, salad items, fresh fruits and pasta, as well as a "No Stopping The Toppings" dessert/sundae bar.
"It's pretty confusing. They need to put up some signs explaining how everything works," Turnbee said. "At Taco Bell, at least they have railings so you know where to walk."
According to Ponderosa cashier Liz Rutt, Turnbee was disoriented from the moment he walked in the door. "He was looking up at the big menu for like 10 minutes and then went over by the window for a while, just looking really lost," Rutt said. "Finally, I was like, 'Can I help you? You need to order before you can be seated.'"
Once seated in a booth, Turnbee waited for a server to bring him a plate for the buffet. Finally, after 10 minutes, he approached a server from another section, who informed him that plates were located next to the buffet and that he could "go ahead whenever you're ready."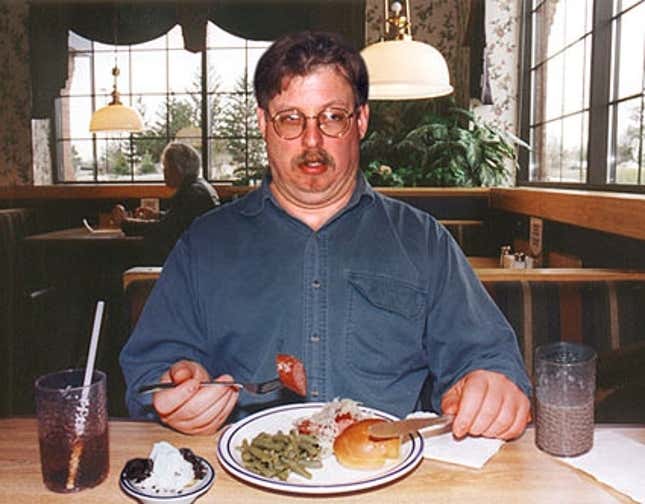 More confusion awaited Turnbee at the buffet itself. "There was a big table with vegetables and mashed potatoes and all that, but then there were these other little sections off to the side with soup and Mexican food and desserts," Turnbee said. "I know at Wendy's you have to pay extra for the soup and potato bar, so I didn't know for sure which things I could have."
"I tried to watch what other people were taking," he added, "but I wasn't sure if they'd gotten the same buffet deal as me or if they'd gotten some other deal that gave them special access to that stuff."
Turnbee eventually found an elderly woman near the macaroni salad and asked her which items he could eat.
"She told me I could have as much as I wanted of anything in the whole buffet area," Turnbee said. "I was really happy about that, because there were a lot of things I wanted that I'd thought I couldn't get, like the tacos."
Even after determining what he could eat, however, Turnbee continued to struggle. Uncertain "what food went with what," Turnbee's first trip to the buffet resulted in a plateful of spaghetti covered in nacho-cheese sauce, a taco dressed with cottage cheese and fish wedges dipped in lentil soup. Though not confirmed as of press time, it is also believed that Turnbee topped a Sloppy Joe sandwich with several large dollops of sour cream.
Still more trouble came when Turnbee made his first return trip to the buffet. While serving himself buffalo wings, he drew disapproving glares from other buffet patrons before noticing a sign reading, "Please Take A Clean Plate Before Each Trip To The Buffet."
"They put that sign in a really bad place," said Turnbee, defending his use of the dirty plate. "It's right by the clean plates, so the only way you'd see is if you were already getting a clean plate, anyway."
Among Turnbee's other violations of Ponderosa buffet protocol: grabbing rolls without using the provided plastic tongs, using a soup bowl for his ice cream, spilling shredded carrots into the garbanzo beans, and letting the rice pilaf's cover fall into the alfredo sauce.
"The whole time, I really tried to be careful," Turnbee said. "Like, I didn't know if I could cut in by the hot bar, so I just waited in line through all the salad items just to get at the macaroni and cheese way down at the end. But even still, I wound up making all these mistakes. It's a really confusing set-up."
Architect Randall Kouris, who in 1986 drafted the dining-area plan now standard to all Ponderosa franchises, stood behind his design, insisting that the series of smaller buffet islands is not intended to confuse guests but rather to create a homier, less "cafeteria-ish" atmosphere.
"After extensive tests, it was clear that restaurant patrons found this layout much easier to navigate than the traditional cafeteria-style, single-island buffet," Kouris said. "I am truly sorry that Mr. Turnbee had problems with our set-up, but, as I said, most customers seem to greatly prefer it."
Despite Turnbee's difficulties, Ponderosa officials expressed confidence that, in time, he could master the intricacies of the restaurant's buffet.
"The problems Mr. Turnbee encountered are simply the result of unfamiliarity, and I believe it is well within his power to acclimate himself to our system," said Larry Chynoweth, manager of the East Frontage Road Ponderosa. "I would urge Mr. Turnbee to give us another chance and find out just how great the Ponderosa dining experience can be."
Turnbee said it is doubtful he will become a regular customer of the chain.
"The food was really good, and I got a lot for my money, but it's just too complicated," he said. "I think I'm going to stick with Burger King and McDonald's—except maybe on special occasions."