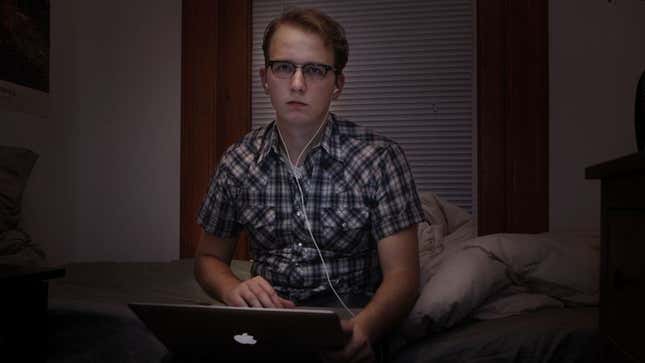 AUSTIN, TX—Saying that he "really doesn't know anyone out there," local man Matt Kremer, 24, announced Friday night that he plans on sitting alone quietly in his darkened bedroom until a party being thrown by his roommate ends.
This Week's Most Viral News: September 22, 2023
Kremer, who found his roommate Tim Rhodes through a mutual acquaintance back in January, said he briefly stopped by the living room earlier in the evening and had a beer but, realizing he didn't have all that much to talk about with the party's guests, decided he would be better off hanging out by himself in his bedroom.
"People out there seem to be having a good time, but I don't mind just chilling out on my own for a while," said Kremer, checking his e-mail for the third time in five minutes as the sound of music and laughter permeated his closed door. "I told them I was a little tired and was probably just going to turn in early."
"Anyway, I'm sure they'll only be in here for another hour or so," Kremer continued. "People started coming over at 8:30, and it's almost 11 now, so I figure this thing should be over pretty soon."
Despite Rhodes telling him about the get-together earlier in the week and repeatedly urging him to invite anyone he wanted, Kremer told reporters that he neglected to inform any of his friends about the event or make alternative plans for the evening.
Since locking himself in his room, Kremer has reportedly watched two episodes of the TV series Homeland on his laptop, pausing intermittently to remove his headphones and check to see if the party was still going on. He said he also briefly considered reading the book he started a few days ago but, upon remembering he had left it on the living room table, decided instead to just sit on his bed and stare at the wall a bit longer.
"I'd like to get a drink of water, but the last time I went out there was awkward enough," said Kremer, who at approximately 10:30 p.m. made his way across the living room to the kitchen while pretending to be on his cell phone. "Honestly, I kind of need to use the bathroom, too, but if they see me again, they'll know I'm awake and wonder why I'm not hanging out."
"I'll just wait it out," Kremer added.
At one point, Rhodes reportedly knocked on the door and asked Kremer if he wanted any of the pizza he had just ordered for his guests. Despite being somewhat hungry, Kremer replied, "No, I'm cool," from behind the door, and then listened for the sound of his roommate walking away.
According to Kremer, he has heard his named mentioned several times during the party, with multiple people asking where he was, and at least one asking, "Is he just sitting in there all alone?"
"I really don't want everybody thinking of me as Tim's weird roommate," said Kremer, glancing at the clock that now showed 12:30 a.m. "But I definitely heard Tim say to someone, 'Don't eat that ice cream—it's my roommate's.' I'd go out there and tell people to help themselves to whatever they want, but then they'd also know I can hear them talking about me."
"I wonder if they think I don't have any friends," he added.
Kremer confirmed he had considered the possibility of just leaving the apartment altogether for a couple of hours, but then realized he really had nowhere to go and would pretty much be in the same situation, only trapped outside his apartment instead of in.
Following a failed attempt to fall asleep, Kremer reportedly picked up his phone and simply stared at its screen for a solid five minutes.
"They just turned the music off, so things must finally be dying down," Kremer said around three in the morning, briefly tilting his ear toward the wall. "But I don't actually hear anybody leaving. Hmm."
At press time, sources confirmed Rhodes had told his friends they should feel free to just spend the night, saying "[his] roommate really won't mind at all."