SANDY SPRINGS, GA—Josh Kroll, 32, an Atlanta-area database administrator, has his complete prison-survival strategy mapped out in the unlikely event that he is ever jailed.
"You never know what life is going to bring," said Kroll, whose lone brush with the law was a 1994 speeding ticket. "I could find someone sleeping with my wife and, in a psychotic state of shock, kill him. Or I could accidentally hit somebody with my car and then flee the scene in panic. Or I could forget to report some major source of income and get nailed for tax evasion. It's not inconceivable. There's nothing wrong with thinking ahead."
Kroll said he has worked through many possible strategies for prison survival.
"If I'm in a maximum-security prison, I need to figure out who's important and who's not," Kroll said. "There's always the possibility I'm going to have to be somebody's bitch, so if that happened, I'd want to be with somebody who'd protect me. But I might be able to avoid all that because I was pre-law as an undergrad and could be useful to the other prisoners for legal advice."
Kroll, who has never been inside a prison, said he has relied heavily on prison-themed movies and TV shows in his effort to develop a game plan.
"Based on what I've seen on Oz, I'd probably want to steer clear of the weight room," Kroll said. "That's where most of the bullies hang out, plus there's no shortage of blunt weapons lying around. And if at all possible, I'd want to keep away from the kitchen pantry, too. That's where a lot of the stabbings seem to take place on the show—somebody goes in there alone to grab something and gets jumped."
G/O Media may get a commission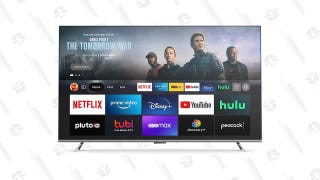 Save 46%
Fire TV 55" Omni Series 4K UHD Smart TV
Well aware of the value of having loyal friends on the outside, Kroll has drawn up a mental list of people most likely to stick by him in case of a lengthy prison sentence.
"Unless I was arrested for child molesting, Scott [Havens] would stick by me," Kroll said. "I think Marc [Unger] would, too, but I don't think I could get him to smuggle anything in for me. He'd be too afraid of getting thrown in jail himself."
Kroll said he could not confidently assess the loyalty of his wife in the event of incarceration.
"With things being so rocky lately, Jane just might use prison as a chance to take off and divorce me," Kroll said. "Then again, my imprisonment might be the kind of terrible crisis to bring us closer together. If that's the case, I'm hoping for minimum security so I can get conjugal visits."
Kroll, who has previously drafted survival strategies for getting lost in the mountains, being kidnapped by South American drug lords, and falling into a polar-bear cage at the zoo, said his chances of surviving prison are "good to very good."
"After being released on bail, I would immediately begin my rigorous weight-training and self-defense regimen," Kroll said. "I've even toyed with the idea of locking myself in a closet to get used to solitary confinement. With some books on elementary psychology, I'd probably do pretty well 'in the walls.'"
According to psychologist Dr. Annette Trudeau, plotting out theoretical prison-survival strategies is surprisingly common.
"The human being is an animal with extremely strong self-preservation instincts," Trudeau said. "In this regard, Mr. Kroll's preparatory measures make perfect sense. But while devising emergency plans is understandable, Kroll should realize that no matter how much he prepares, the only thing he can count on in prison is having his creamy white ass churned into butter."