GLENDALE, AZ–Retired building contractor Bud Easler, 67, who ordinarily patronizes Vic's Barbershop, informed Studio Quest hairstylist Gina Nardo Sunday that he just wants "a regular haircut, without all the frou-frou."
"The wife dragged me along on one of her all-day shopping expeditions, and right next to her shoe store was this hair place. I knew Mary would be looking at shoes for a long time, and I was due for a little trim, so I figured what the hey," Easler said. "Big mistake."
"The second I walked in the door, I knew it was trying to be one of those frilly-dilly places," Easler said of Studio Quest, which bills itself as "a European-style salon and day spa with professional services at affordable prices." "I sat down in the chair, and right off the bat, this Gina gal was all deep-cleansing-conditioner this, collagen-shampoo that. I just wanted my hair a few inches shorter, and that's it."
The frou-frou started before Easler had even reached Nardo's chair. Upon telling receptionist Kirsten Mills that he wanted a haircut, Easler was asked if he would like a manicure or body treatment, as well.
"I sure as heck don't look like no lady, so I don't know why she was asking me about a manicure," Easler said. "And as far as a 'body treatment' goes, I didn't know what on Earth that was, but it sure sounded funny, so I just said no without even asking what it was."
G/O Media may get a commission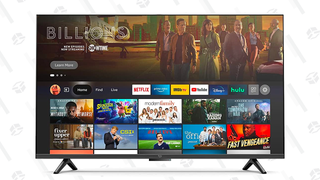 22% off
Amazon Fire TV - 50" Omni Series 4K - Early Access Deal
Easler's refusal hardly streamlined the haircut process, however.
"I usually just like to sit in a chair and maybe flip through a magazine while Vic or one of the other fellas cuts my hair," Easler said. "But this Gina gal, she had a question every step of the way. Did I want guava-essence shampoo or wildflower with extract? Would I like to see a list of microdermabrasion scalp exfoliators? Did I want vitamin E and a sea-algae moisturizing spritz? So I say to her, 'Look, if you want to maybe shave the back of my neck, that would be fine.'"
Before she began cutting, Nardo rubbed what Easler described as "some sort of fancy oil" into his scalp. She then put a towel over his head and left him for five minutes while the substance soaked in.
"The gal just took off," Easler said. "So after a few minutes, I looked around the joint and said, 'Yoo-hoo! Where are you? I hope you didn't forget about me!' Then she came back." When she returned, Nardo explained that she had applied a regenerative conditioning scalp treatment with warm mineral soak, which was included in the price of the haircut. She added that, from the looks of Easler's ends, he "really needed it."
Throughout the session, Nardo recommended a number of skin procedures Easler should consider having done. According to the stylist, years of neglect had dried out Easler's pores, making him a prime candidate for a deep-pore cleansing facial, which includes a skin analysis, steam treatment, and enzyme masque.
Easler declined the facial. Undeterred, Nardo began giving him a one-minute mini scalp massage, which "serves to reinvigorate tired follicles." Easler quickly cut her off, insisting that he didn't have a lot of time, and that he just wanted "your basic trim."
"I told her my follicles were fine and that I just needed a quick, regular, old-fashioned haircut," Easler said. "Even my wife can't shop forever."