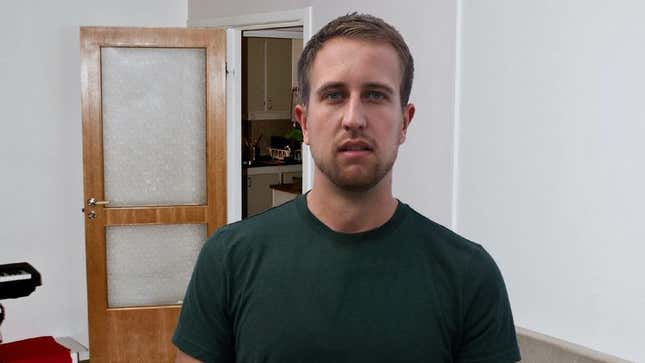 MINNEAPOLIS—Fully aware of his numerous flaws and unappealing personal characteristics, local 33-year-old Phillip Morgan confided to reporters Wednesday that he found it a bit unsettling to imagine that the perfect woman for him is out there somewhere.
This Week's Most Viral News: September 22, 2023
Morgan, a sales manager with little upward mobility in his job who has lived in the same sparsely furnished apartment for six years, said it troubled him to contemplate the theoretical existence of a woman so well-suited to him she would actually appreciate him the way he is, and ultimately want to live with him and become part of his life.
"I can definitely see how someone might be willing to put up with me, but the idea of a woman who absolutely loves everything about me—that's a little alarming," said Morgan, whose perfect match would presumably both accept and value the fact that he only owns two good pairs of work pants that he alternates throughout the week. "What kind of person would be romantically attracted to the type of guy who routinely falls asleep for the night on his living room futon, often with the television on and a Styrofoam takeout container in front of him?"
"It's slightly unnerving, frankly, to think that another adult could watch me chew with my mouth open and then want to hold my hand afterward as we're walking down the street," he added. "And the thing is, that woman may actually exist in the world and is hoping she'll one day meet me. That's kind of disturbing."
As a man who spends a considerable portion of his free time playing online poker and the majority of his disposable income on car stereo equipment, Morgan admitted it made him uneasy to consider he might have a true soulmate somewhere who could connect with him on every level. In particular, Morgan said he had trouble comprehending that any woman could enjoy conversing with someone who almost always steers the discussion back toward anecdotes about guys he knew in high school and often repeats the same handful of lines from the movie Billy Madison that he has been quoting for nearly 20 years.
Morgan added that if this hypothetical woman were perfectly compatible with him, she would, ostensibly, have to respect and even be proud of him for things like never standing up to his parents, putting ketchup on an inordinate number of his meals, and working a dull job he doesn't like because he is too afraid to leave it.
"Seriously, what sane woman wouldn't try to change me at least a little bit?" said Morgan, mentioning that he often goes the entire weekend without leaving his apartment and doesn't know how to cook a single thing besides eggs. "That would just be bizarre. We're talking about someone who looks at a guy and says, 'I am deeply in love with this man who consistently uses paper towels in place of plates, and I want to wake up each morning with him beneath sheets that obviously haven't been changed in months.'"
"What sort of person would that even be?" Morgan continued. "I can't even begin to understand her thought process."
Morgan added that as long as he continues to purchase large jars of whey protein and has no clue how to use an apostrophe when writing an email, he will remain dumbfounded by the idea of someone who would actively want to create and nurture a relationship with him that could conceivably persist until one of them dies.
"This woman could be anywhere, but if we're really kindred spirits, I have to assume she would hang around the same places I do," Morgan said. "It's startling to think about, but our eyes could meet the next time I stop by a gas station to pick up a four-pack of Rockstar energy drink."
"And who's to say there's only one perfect person for everyone? There could be two or three," Morgan continued. "If they ever learned about each other they might even compete to win my affection, and that's even more disconcerting."
According to Morgan, the best thing he can do is try to take comfort in the fact that there are millions upon millions of women out there who are absolutely terrible for him.