DECATUR, IL—Calling it a once-in-a-lifetime trip, and more exciting and enlightening than he could have ever imagined, Marcus Hayes, 22, returned home Monday after spending nearly two months getting his wallet stolen across Europe.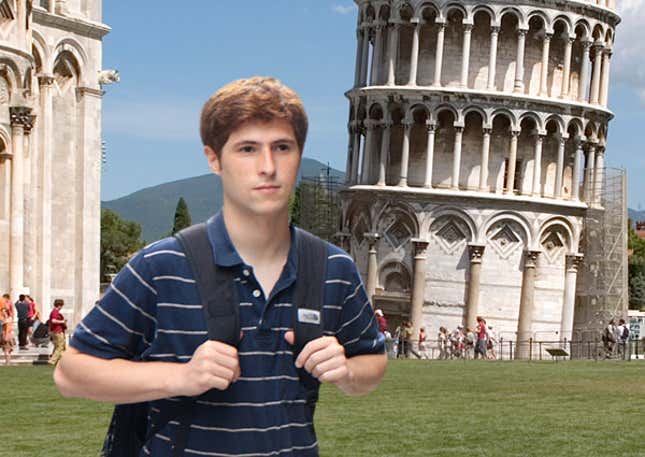 This Week's Most Viral News: September 22, 2023
"It was incredible—I got to see and learn so much," said Hayes, who had more than $700 forcibly removed from his person in some of the Old World's most captivating cities. "The Eiffel Tower in Paris, the Parthenon in Greece, the downtown police station in Venice. This whole trip just really broadened my horizons."
"For instance, did you know that Madrid has some of the finest art museums in the world?" Hayes continued. "And that it's a really bad idea to walk around with all your cash there at night?"
The recent college graduate, who had never before traveled outside of the United States, much less marveled at the famed Sistine Chapel ceiling as two strange men accosted him from behind, said the trip exposed him to a variety of new and interesting cultures.
"Back home in Illinois, I was always hanging out with the same old people and going to the same old places," Hayes said. "But suddenly, there I was in Berlin, chatting it up with two cute German girls outside a hip dance club. Yes, they ran off with my bag and all my credit cards, but I never would have known to visit Charlottenburg Palace if it weren't for them."
"It's the oldest Prussian palace in Germany," Hayes continued. "At least that's what the sign out front said. I didn't have any money to take the tour."
During his two-month-long excursion, Hayes visited 16 European countries. Along the way, the wide-eyed American saw firsthand the grandeur of Moscow's Red Square, had 30 euros lifted from his pants pocket while wandering through Istanbul's mesmerizing Grand Bazaar, and returned from the annual Calcio Storico festival in Florence to find his room at the local youth hostel thoroughly ransacked.
Hayes even managed to learn a few helpful foreign phrases during his travels, and now knows enough Dutch to say "Please leave me alone" and "Stop, I really need this wallet to get home."
"I tried to tell them that I'd just been robbed a few hours earlier, but I guess my accent still needs a little work," Hayes said. "They took my money, of course, but they were really relaxed and mellow about it. I guess that's part of the chilled-out Dutch vibe I've heard so much about. Even the way that guy was holding his knife up to my throat felt totally—I don't know—European."
While Hayes had already soaked in more culture and history than he ever expected, the last few weeks of his trip didn't disappoint. Additional funds wired to the college graduate by his parents were reportedly snatched by an elderly Romanian woman, dressed in a traditional fotă skirt, and pretending to need assistance crossing the street. Furthermore, the 22-year-old was taken for nearly $75 while visiting a quaint little chess shop in the Czech Republic, whose soft-spoken owner, a man from a long line of skilled craftsmen, knowingly gave Hayes the wrong denomination in change.
According to sources, Hayes had his wallet stolen seven other times by street children in Albania, Latvia, Hungary, Serbia, Ukraine, and Poland.
Though his trip had come to an end, and he was now back home in Illinois, the American tourist said he would always treasure the memories of his first time spent traveling abroad.
"It was really nice while it lasted, and I'm a little sad that it's over, but at least I'll always have photos to remember my trip by," said Hayes, unpacking his suitcase and belongings Monday. "Oh, for the love of Christ! My camera! Those assholes took my goddamn camera."