MCKEESPORT, PA—Seeking to continue his longstanding tradition of cracking wise during NFL telecasts, die-hard Pittsburgh Steelers fan Glenn Patek, 34, has already begun brainstorming quips for the team's Dec. 8 game against the Houston Texans.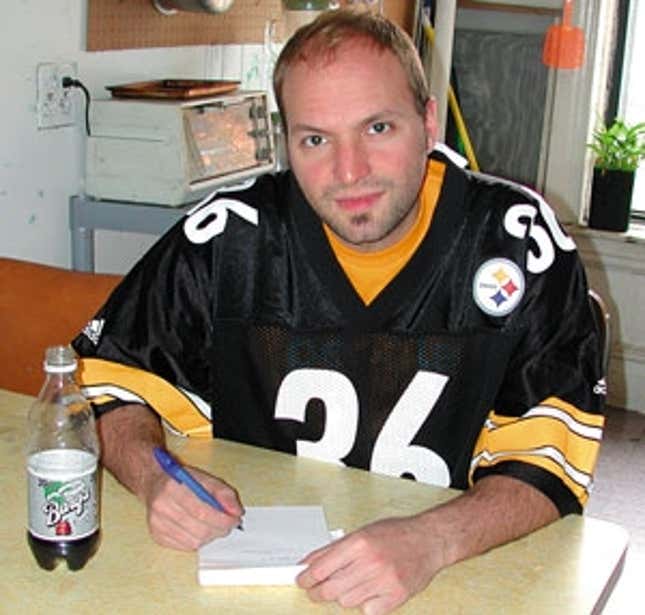 Edgelords Explain Why They Love Elon Musk
"The Steelers play the awful expansion Texans, so you'd think I'd have an easy time of it," said Patek, who watches most Steelers games with friends at the Bluegill Bucket, a local tavern. "But in reality, having a big, fat target like Houston makes it tougher, because there's the temptation to resort to lazy, obvious jokes. I'd be letting Dave, Graham, Carlos, Jeannie, Tucker, Christine, and all the rest down if I resorted to obvious stuff. When you're playing a team that's dead-last in the NFL in total offense, you've got to get pretty creative."
Patek, who cites the dry, erudite style of ESPN anchor Kenny Mayne as his primary quipping influence, began preparing for Sunday's game by logging onto the Houston Texans' official web site.
"I've already got a bunch of stuff planned out," Patek said. "Unlike a lot of teams, there isn't a single marquee player on the entire Texans defense. So whenever a player makes a tackle, I can say, 'Man, that guy's almost good enough to play for Florida State.' Or if they throw the ball to, say, Jabar Gaffney, I could say, 'Well, you know what they say: Throw the ball to Gaffney a few hundred times, and he's eventually gonna burn you.' Or, if you can't think of anything else, you can always just sarcastically praise their 'vaunted punting game.'"
"I'm also working on a joke where I say that the Texans coaches give out those little helmet stickers whenever somebody makes a clutch play," Patek continued. "Then, when somebody at the bar points out that none of the players have any stickers, I'll say that nobody's made a big play yet."
Complicating Patek's job this week is the serious injury suffered by Pittsburgh quarterback Tommy Maddox during the team's Nov. 17 game against the Tennessee Titans.
"Kordell Stewart may end up starting at quarterback, and I've pretty much run through every Kordell joke in the book over the years," said Patek, poring over the USA Today sports page. "Do I joke about how he could get yanked in favor of a guy with a concussion and spinal-cord injury? I could, but I'd have to be careful."
In addition to the Steelers-Texans game, Patek is preparing jokes for Sunday's other matchups.
"We'll probably watch Falcons-Bucs, which should be pretty good," Patek said. "You can always count on someone looking dumb trying to tackle Michael Vick, or how every sportscaster loves John Lynch and Mike Alstott just because they're 'throwback' white guys. And, if I still have some steam, I'll probably invite everyone back to my place to watch the Packers-Vikes game at 8:30. Favre always gives you something to work with."
Sunday regulars at the Bluegill Bucket say Patek is always a big part of their football-viewing experience.
"Every once in a while, he'll say something that'll actually make you laugh," bar patron Tami Neff said. "I liked it when Jerry Rice caught a pass last week, and the announcers were talking about how he was the oldest receiver ever in the NFL, and Glenn said, 'When 600 years old you are, so good you will catch, hmmm?' like Yoda from Star Wars. I have to admit, I laughed, even though he made the exact same joke about Cris Carter a couple weeks before."