ERIE, PA—Upon being informed by a McDonald's cashier that the lunch menu would not be available until 11 a.m., restaurant patron Don Turnbee elected to wait 20 minutes inside the fast food establishment Saturday until the items he ordered would be served.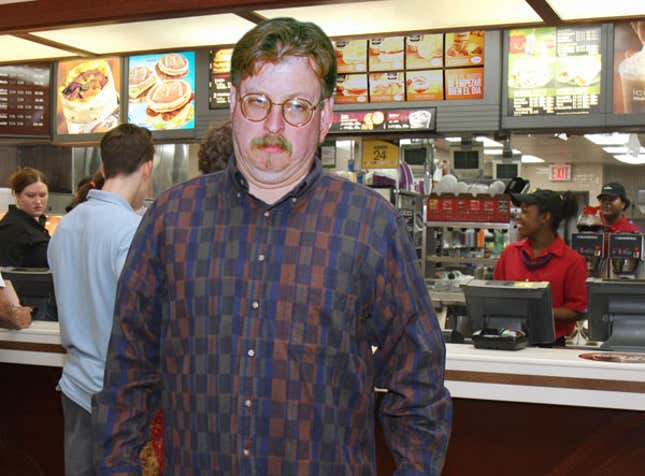 CDC Issues Dire Warning That Nick Cannon Is Feeling Horny
"There aren't any other stores or anything that I like around here, so I figured I would just wait," said Turnbee, who typically frequents the McDonald's in the Buffalo Road shopping plaza, but chose to stop at the Pleasant Valley location because of its proximity to his wife's hair salon. "The girl at the counter said I could still get breakfast if I wanted, but 10:40's too late for breakfast."
Added Turnbee, "I want lunch."
The 41-year-old explained that he had already eaten breakfast earlier that morning, when he and his wife, Shelly, went to a nearby Bob Evans. Turnbee said he was not aware of the lunch-serving policy at this particular McDonald's.
"They said they start [serving lunch] at 11 on weekends and 10:30 on weekdays," Turnbee told reporters. "The one on Buffalo Road does it earlier, so I guess it's different at different McDonald's. It should probably be the same, but it's different."
According to restaurant employees, when Turnbee entered the establishment, he proceeded to order a No. 3 value meal with no pickles and a large Sprite. After they told him that lunch was not available until 11 a.m., Turnbee reportedly stood in silence for a few seconds, backed away from the cash register, and made his way to the seating area.
"Before I ordered, I saw that the breakfast menu was up," Turnbee noted. "But sometimes they forget to switch the menu if you get there right when breakfast ends. Also, if it's close, they'll usually serve you lunch anyways. I guess they don't do that here."
After dispensing several napkins and filling two ketchup containers, Turnbee selected a booth with a view of the menu board. He then sat for approximately one minute before glancing at his wristwatch and returning to the condiment counter to fill another ketchup container.
By 10:48 a.m., Turnbee had begun slowly walking around the restaurant's perimeter, perusing the various decorative paintings hanging on the walls. He also examined a plaque featuring a brief description of the restaurant and its founder, even though he had previously read the same inscription on an identical plaque at the Pleasant Valley McDonald's.
At one point, Turnbee entered the men's room. He later acknowledged that this trip was mainly to fill time.
"It's getting pretty close to 11," Turnbee said.
As he waited, Turnbee expressed his commitment to ordering lunch, stating that he would not, under any circumstance, order breakfast.
"Their Egg McMuffins are pretty good, and the pancakes are all right, but I'm in the mood for a burger," said Turnbee, who when spotted moments later eating a hash brown explained that he needed something to tide him over, and that "hash browns are basically French fries."
With five minutes to go before lunch, Turnbee began standing in line, allowing customers to proceed ahead of him if they confirmed they were ordering breakfast. He repeatedly peered out at patrons in the drive-thru, apparently to make certain they were not being served lunch.
"There shouldn't be any difference between the drive-thru and when you go inside," he said.
According to Turnbee, he has been in this position many times before, though mostly at Wendy's—a fast food establishment he said isn't very good at making clear when they serve breakfast.
"I just hope that when the lunch menu goes up they're ready to serve everything," Turnbee said. "They should have the fries and the nuggets already cooked because people are definitely going to order them when they order lunch. You can usually order pop with breakfast, so that shouldn't be an issue."
Continued Turnbee, "I wonder if the girl will remember my order or if I'll have to order again."