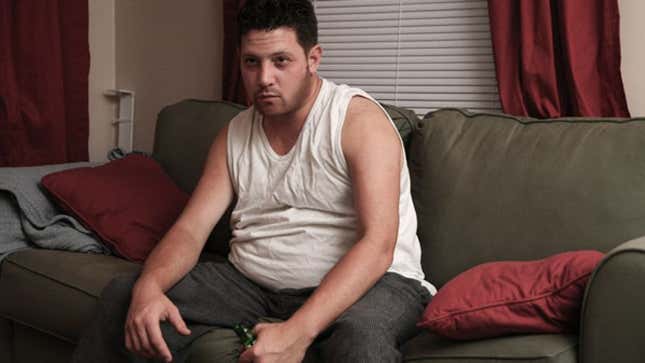 WASHINGTON—Unless immediate measures are taken, the delicate balance of local claims adjuster Doug Mahoney, 39, could soon collapse, an international panel of leading conservationists warned Monday.
Edgelords Explain Why They Love Elon Musk
"Decades of irresponsible consumption, as well as the plundering of vital emotional resources have reduced this once-thriving human being to almost nothing," said Phillip Bowman, coauthor of the report and a professor of ecology at Stanford University. "It's frightening, but at the rate that he's going, Mr. Mahoney may be completely depleted by the year 2012."
Added Bowman, "There's barely anything left of him as it is."
According to the report, over the past 30 years a series of external pressures—including the monotony of work, dysfunctional personal relationships, and the frustrations of daily life—have wreaked havoc on the fragile Washington resident. A number of man-made disturbances, such as Mahoney's divorce and the death of his father, Jim, also contributed to the rapid physical and mental deterioration of the formerly pristine man, the report found.
"The very future of Doug Mahoney is in jeopardy," said preservationist Barbara Schean, adding that Mahoney has eroded at an alarming rate since the realization that he is almost 40 set in last May. "By our calculations, his most nutrient-rich layers will be washed away by the end of the decade, leaving little more than a desiccated, middle-aged wasteland."
Throughout his life, experts say, Mahoney has been repeatedly exploited and cut down by those in search of personal gain, most notably asshole bosses, manipulative friends, and several ex-girlfriends. Still, the rampant abuse of the 39-year-old continues, with recent findings indicating that it may not be long until Mahoney is wiped off the face of the earth.
"He's being sucked completely dry," said ecologist Charles Stephenson, who claimed that Mahoney's degradation was exacerbated by such factors as being passed over for a promotion twice, and only finding comfort in his three nightly glasses of Jack Daniels. "Large businesses alone have utterly ravaged Doug, burning through the nonrenewable employee as they please."
Most harmful of all, experts say, might have been the disruption caused by the introduction of a destructive species: a roommate Mahoney was forced to take on after losing his savings in the stock market earlier this year.
"Even in the most controlled conditions, the introduction of a predatory entity into an ecosystem is very destabilizing," Stephenson said. "In this case, a parasitic tenant was imported into the environment after nothing more than an awkward 10-minute interview in Mahoney's living room."
Despite the grim news, the report outlined a number of recommendations to preserve what little remains of Mahoney, including a gym membership, antidepressants, and maybe getting a fresh start in another city. But the experts warned that even if all these measures were implemented right away, the odds of completely halting the devastation were slim.
"Unfortunately, Doug Mahoney does not have the recuperative power of, say, certain lichens that bounce back from reindeer overgrazing," Robillard explained. "So if you've always thought about visiting him, I'd do it right away."
"And take pictures," Robillard added. "He'll be unrecognizable in a couple of years."