SCOTTDALE, PA—Pennsylvania native and entertainment-news consumer Gayle Caudill admitted to a deep personal investment in the happiness and well-being of TV and film star Jennifer Aniston, an international celebrity who has a reported net worth of $80 million, and, according to Caudill, is "a down-to-earth gal just like myself."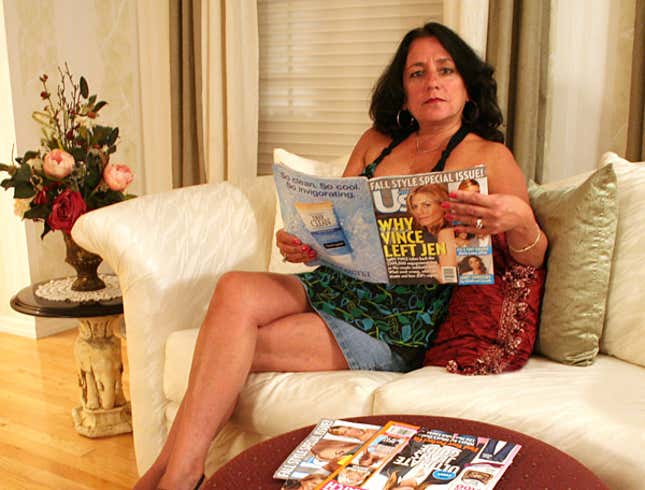 This Week's Most Viral News: September 22, 2023
"She's had her share of troubles, like anyone else," said Caudill, referring to Aniston's much-reported divorce from fellow megastar Brad Pitt. "But if I know Jen Aniston, she'll come out on top. She's a survivor."
The divorced 41-year-old dental-office receptionist and self-proclaimed "Team Aniston" member said she felt an "uncanny" bond with the $8-million-per-picture superstar. The two have never met, and are not expected to.
"After hearing and reading what she's gone through these past two years, she almost seems like a little sister to me," said Caudill of Aniston—or "Jen," as she calls her—whose decision to pursue a high-profile acting career was made entirely without Caudill's input, as was Aniston's airing of the intimate details of her personal life that incurred Caudill's sympathy in the first place. "Jen's had such a hard time. I just want to hug her and tell her everything's okay."
Caudill said that a major factor behind her allegiance towards Aniston, who topped People Magazine's 2006 Best Dressed list and was GQ Magazine's first-ever Woman Of The Year in 2005, was that the star "always faces her hardships with dignity." But Caudill sympathizes strongly with Aniston mostly because of the Emmy Award–winning actress' underdog status.
"Her marriage ended and people knock her for being more famous for her hairdos than her acting ability—yet she always bounces back," Caudill said. "When something happens to me, like when I get stood up on a date or my purse clasp breaks, I try to tell myself, 'Well, if Jen can survive getting dumped by Brad…'"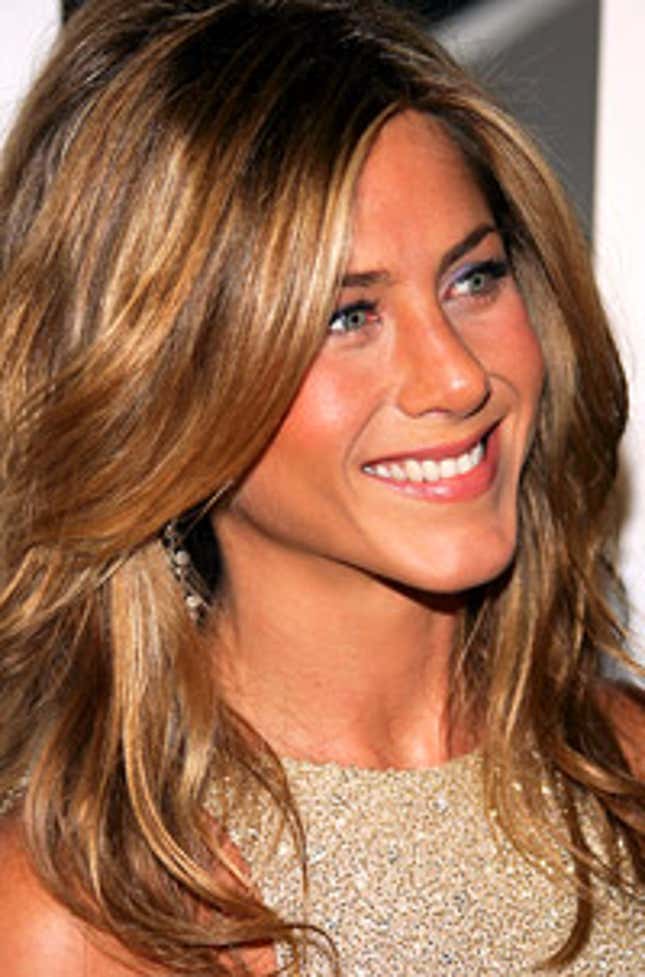 One item of particular concern to Caudill is the "misconception" that Aniston, despite her memorable decade-long success as Rachel Green on Friends, hasn't fully pulled off the move from TV to the big screen.
"That's so unfair to all that Jen has accomplished—she's so talented at both comedy and drama," said Caudill, who herself has been bypassed for promotion twice. "Have you seen Rumor Has It? The chemistry between Jen and Kevin Costner was just terrific."
"People ask if she's going to be a bona fide movie star? I say she already is," Caudill said.
Caudill admitted that she sometimes worries that Aniston is not eating enough. "Jen doesn't seem like the type to worry about her weight, but still, it's Hollywood," she said. "She doesn't need the stress, and she sure as heck doesn't need to be dealing with an eating disorder." Caudill's worries were put at ease, however, when Aniston admitted on Access Hollywood that she "eats like a hog" on set, and hardly has time to exercise when she is working.
"How can you not love this girl?" said Caudill, whose rent, credit card, and auto payments prevent her from converting her basement into a state-of-the-art workout facility, hiring a personal trainer, and making sure that her dietician suggests meals with the correct proportion of lean proteins and healthy carbohydrates. "Jen's just dealing with the same stuff all single working women deal with."
Caudill said she particularly admired Aniston for seemingly "not giving up on love" by pursuing a relationship with actor Vince Vaughn. Though Caudill doesn't believe that their romance will result in marriage, she is grateful that Aniston is "seeing somebody who makes her happy," as evidenced by a picture she recently viewed in Star Magazine of the couple laughing together on a beach.
Caudill, however, was disappointed when she found out Vaughn was a smoker, saying she herself could never date a man who smokes, and was "a little let down" when she saw paparazzi photos revealing that Aniston smoked herself.
Nevertheless, she maintained that Aniston has been an "inspiring example" in her life. Caudill remained a consistent 30 pounds overweight despite experimenting with numerous diets, and is currently dating a Scottsdale–area man who, despite being a nonsmoker, shows little interest in her and still privately yearns to reconcile with his ex-wife. Caudill said she plans to maintain a close relationship with the actress "through thick and thin."
"Jen's been through a lot," Caudill said. "But she'll come through in the end. Just like we all will, if we believe in ourselves and stick to our dreams."